Press Releases
Coastal Modern by Tim Clarke
Sophisticated Homes Inspired by the Ocean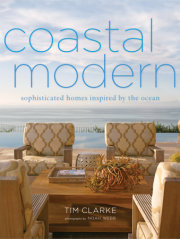 Tim Clarke
Imprint: Potter Style
On sale: April 3, 2012
Price: $50
Pages: 224
ISBN: 9780307718785
Contact:
Mary Coyne
212-572-2247
mcoyne@randomhouse.com
"I design homes that embody a dream—interior spaces that celebrate the freedom, lightness, and relaxed elegance of the perfect beach house regardless of architectural style or location."
—Tim Clarke, from the Introduction
Celebrity designer Tim Clarke believes that designing a coastal home is not necessarily about proximity to the sea but about conveying the carefree vibe of life at the beach. COASTAL MODERN: Sophisticated Homes Inspired by the Ocean (Clarkson Potter; April 3, 2012) is the culmination of Clarke's fourteen years of designing interiors that are deeply personal to the owners yet evoke that "perfect beach house."
There are few people in the world who have captured the essence of coastal living the way Clarke has, and the media has taken note. While creating residential environments for Hollywood celebrities (Ben Stiller, Portia de Rossi, Sally Field, Matthew Perry, to name a few), power brokers, and beach lovers alike, the Tim Clarke brand has been featured in places such as Elle Décor, Architectural Digest, House Beautiful, and Coastal Living as well as The Travel Channel and House Beautiful Television.
COASTAL MODERN shares Clarke's aesthetic of breezy elegance in more than 250 transporting photographs by award-winning photographer Noah Webb (Dwell, Vanity Fair, Travel + Leisure). These pages feature dozens of seamlessly connected indoor/outdoor spaces (many with jaw-dropping views) and sprawling rooms with clean lines, organic shapes and materials, a mix of textures, and colors inspired by the sea and the sand.
COASTAL MODERN is more than a portfolio of Tim Clarke's work; it's an inspiration book filled with breathtaking imagery of the coast and interiors as well as tangible ideas that illustrate how any home can emulate the ideal beach house. While captivating readers with both gorgeous oceanfront properties and beautiful inland gems, Clarke details how to connect a home with its natural surroundings, and in doing so, achieve the relaxed feeling of a beach house, regardless of size or location. Clarke's commentary on design elements like furniture and lighting, coupled with illuminating "design in detail" sections, which showcase Tim's experience designing specific homes, offers accessible ways to create a beautiful home where nothing is too precious for the everyday.
A design piece in itself, this beautiful volume will demand a prominent place on the coffee table and will inspire readers to channel all that is great about the shore into a truly livable, modern home.
# # #
TIM CLARKE is an interior designer in Santa Monica who has created interiors for many Hollywood celebrities and whose work has been featured in leading publications, including Elle Décor, House Beautiful, Veranda, Town & Country, and the Los Angeles Times. His design firm, TCI, has a clientele base that includes leaders in entertainment, business, and sports, and his Santa Monica retail location, Tower 20, sells one-of-a-kind beach-inspired furniture and accessories. Clarke's new collection of coastal inspired artisanal candles will be available in April from Makana Candles.
Award-winning photographer NOAH WEBB's work has appeared in such publications as Dwell, Travel + Leisure, Vanity Fair, Forbes, Bon Appétit, London Sunday Telegraph, among many others.
Writer JAKE TOWNSEND has contributed to Los Angeles Times and Condé Nast Traveler, among others, and is the author or coauthor of many books, including the acclaimed Cool Hotels series.
Related Posts:
You Might Also Like