Press Releases
Clean Break by David Klein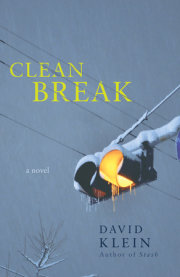 On sale: January 1, 1970
Price: $
ISBN: 9780307716835
Contact:
Mary Coyne
212-572-2247
mcoyne@randomhouse.com
Praised by Kirkus Reviews for his "nimble storytelling style" and "richly intertwined stories," David Klein is revered for his suspenseful plots and sharp psychological insight. In CLEAN BREAK (Broadway Paperback Original; June 5, 2012), four lives intersect in a thrilling tale of addiction, violence and deceit.
Klein masterfully tells the story of Celeste Vanek, a mother and wife making the most difficult decision of her life: whether or not to believe the promises of her husband Adam, a compulsive gambler, who insists he has overcome his addiction.
After years of secrecy and tension in their marriage, Adam tearfully admits that he has gambled away everything the couple has built together. Adam's addiction has poisoned his relationship with Celeste and damaged his young son, Spencer, who is slowly retreating into his imagination. Celeste makes the fateful decision to make a clean break from her husband and his destructive lifestyle. Starting over, she quickly finds, is not as easy as it sounds—the physical and emotional resistance from Adam pushes the family to the brink of self-destruction.
After witnessing a violent struggle between Celeste and Adam, Jake Atwood enters Celeste's life as an ally and a friend. As Jake grows closer to Celeste, he tries to guard his own emotional and ethical battles. His affair with Sara, a married and childless police officer, seems like any other in his string of failed relationships; however, a shocking crime sets these four characters on a collision course. How does one make a clean break from the past for a fresh start in life? The choices Klein's characters make all lead to the devastating final moments of the novel, in which making a "clean break" is a matter of life or death. CLEAN BREAK will leave readers breathless.
ABOUT THE AUTHOR
David Klein is the author of the novel Stash, also published by Broadway Books, and his short fiction has appeared in a variety of literary magazines. He currently lives in upstate New York.
Related Posts: