Press Releases
THE CLANCYS OF QUEENS by Tara Clancy
A Memoir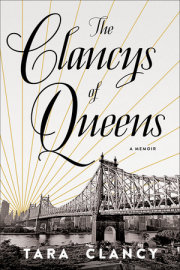 Tara Clancy
Imprint: Crown
On sale: October 11, 2016
Price: $27.00
Pages: 256
ISBN: 9781101903117
Contact:
Dyana Messina
(212) 572-2098
dmessina@penguinrandomhouse.com
Advance Praise for THE CLANCYS OF QUEENS
* A Barnes & Noble Discover Great New Writers Selection *
"An intimate coming-of-age chronicle . . . [from] a sharp-tongued, hip-hop-loving sneaker enthusiast whose relentless attempts at disrupting the tranquility of nearly every situation make up the bulk of the antics in the book's twenty-one-year sprawl. . . . The heart of Clancy's thoroughly enjoyable narrative lies in her examination of life in the spaces between social classes, and the threads of humanity shared equally by the local pothead high schoolers, antique-collection Hamptons businessmen, and the Irish-American cops of New York City." —Publishers Weekly
"[A] laugh out loud memoir . . . Clancy's writing crackles with wit and candor . . . As Clancy whirls with feverish tomboy energy from one escapade to the next, she gives a fantastically vivid view into her many worlds." —Booklist
"The fierce voices of working-class women are too often inaudible in our top-down social economy, but when Tara Clancy breaks through, she dazzles us with authenticity, hilarity, and insight. The relentless honesty of her book will capture your heart." —Andrew Solomon, author of Far from the Tree
---
Tara Clancy is an endangered species. Or, as she puts it, "My people—accented, working-class, native New Yorkers—are about to go the way of the woolly mammoth. And, hard as it is to believe, the last notable book written by a woman like me was A Tree Grows in Brooklyn . . . seventy-three YEARS AGO." Clancy is a natural storyteller whose fresh wit and captivating voice have been charming audiences since her earliest days as a gang leader (of fellow five-year-olds) on the streets of Queens. Today, as a Moth GrandSlam winner and celebrated host of the hit show's live events across the country, Clancy has been featured on programs such as NPR's Snap Judgment, Risk!, and The Story Collider; with writing published in the New York Times, The Paris Review Daily, the New York Times Magazine, and The Rumpus. Whether they're heard, seen, or read, Clancy's stories deliver a salt-of-the-earth authenticity, the source of which is unraveled and brought to life in her singular debut, THE CLANCYS OF QUEENS: A Memoir (Crown; October 11, 2016).
Tara Clancy is a child of the '80s, born in Queens to an Irish-American cop and an Italian-American social worker who divorced when Tara was two years old. As a result, Monday through Friday she and her mom lived with her feisty, Brooklyn-born Italian grandparents on 251st Street. Every other weekend and most holidays would be spent with her father in their converted boatshed in working-class Broad Channel, Queens, an island off of Rockaway that had no supermarket, high school, pharmacy, or library—but did have a church, two VFWs, and more than its share of bars. On alternating weekends, however, Tara would be taken by limo or private jet to the Hamptons estate of a self-made multimillionaire named Mark, whom Tara's mom had met as his housekeeper, then secretary, and ultimately girlfriend.
This range of zip codes meant that—depending on the day—Tara could be at Key Food with her grandmother, scheming workarounds to the "10 sale items per customer" rule; on the playground instigating or spectating all-out brawls with similarly fearless outer-borough kids; holding court beside her dad and their crew of misfits at his local bar; or swimming with her mother in the lagoon that Mark built just for Tara on his Bridgehampton lawn.
This hilarious and insightful coming-of-age narrative will take you on an unforgettable journey through the far-reaching perspectives of Tara's upbringing. But THE CLANCYS OF QUEENS is not just a wildly entertaining and refreshing read. It's also essential, for its bold offering of a voice that's astonishingly underrepresented on our shelves and in our national conversation: that of an authentic working-class woman in America.
About the Author: Tara Clancy was born and raised in Queens and now lives in Manhattan with her wife and two sons. This is her first book. To see videos of Tara's performances, and more, visit her at taraclancy.com.

Related Posts:
You Might Also Like