Press Releases
Acclaimed author Robert Jackson Bennett's highly anticipated, intrigue-filled fantasy, City of Stairs
The author of American Elsewhere returns with a novel of living spies, dead gods, buried histories, and a mysterious, ever-changing city.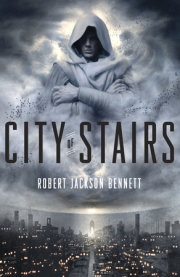 Robert Jackson Bennett
Imprint: Broadway Books
On sale: September 9, 2014
Price: $15.00
Pages: 464
ISBN: 9780804137171
Contact:
Lauren Kuhn
212-782-8637
lkuhn@penguinrandomhouse.com
Advance Praise for City of Stairs
"Smart and sardonic, with wry echoes from classic tales (a little "Telltale Heart," anyone?) mixed up in an inventive, winning narrative." —Kirkus
"An excellent spy story wrapped in a vivid imaginary world." —Library Journal (starred)
"Imagine an amalgam of spy thriller, murder mystery, and high-concept fantasy. . . . As an exercise in world building, the book is captivating, and as a spy thriller, it succeeds remarkably well, building suspense slowly and steadily until it's time for Bennett to unleash some of the surprises he's been keeping tucked away. Highly recommendable for fans of hyperrealistic, alternate-world SF/fantasy." —Booklist 
"Robert Jackson Bennett deserves a huge audience. This is the book that will earn it for him. A story that draws you in, brilliant world building, and oh my God, Sigrud. You guys are going to love Sigrud." —Brent Weeks, New York Times bestselling author of The Way of Shadows

"A rich, layered, thoughtful story, full of gods and magic and characters that feel unflinchingly true . . . every once in a while I read a book that's so well done, I find myself wanting to punch the author in the face out of pure envy. Congratulations, Mr. Bennett—you just made the face-punching list!" —Jim C. Hines, Hugo Award–winning author of Libriomancer
"Alien and human at the same time, Bennett's world is engrossing and fascinating. The pacing kept me reading far later than was healthy." —Mur Lafferty, Campbell Award–winning author of Playing for Keeps
Selected as one of the most highly anticipated books of 2014 by outlets from io9 to Library Journal, award-winning author Robert Jackson Bennett's engrossing novel of murder and espionage, dead gods and miracles, City of Stairs (Broadway Books; September 9, 2014), has already garnered a tremendous amount of buzz. Set in a mysterious fantastical city and weighted by a provocative exploration of our ability to rewrite, appropriate, and altogether reinvent history, Bennett's brilliantly conceived City of Stairs is sure to appeal both within the bounds of the genre and beyond.
Bennett's inspiration for the book came after reading Alan Furst's Dark Star, and City of Stairs is as much a riveting spy novel as it is immersive fantasy, set during an imagined period of mid–19th century colonialism and featuring a hero, Shara Thivani, who prevails thanks to her wits, her knowledge, and her ability to navigate the intrigues of a city that is at once profoundly alien to her and deeply resentful of her presence. 
City of Stairs is set in the shattered yet surreal city of Bulikov, a place that once enjoyed the protections of living gods who used their divine powers to conquer the world. Now, Bulikov's divine protectors are dead, the city's proud history has been erased and censored, its citizens forbidden from acknowledging let alone teaching and studying Bulikov's heritage, and it is just another colonial outpost of the world's new geopolitical power, Saypur. At first, then, the murder of a Saypuri historian, universally hated throughout Bulikov for being given access to a past denied to its own citizens, raises little suspicion. But as Thivani, one of Saypur's most accomplished spymasters, begins to investigate, she suspects the beings who once protected Bulikov may not be as dead as they seem—and that her own abilities might be touched by the divine as well.
ABOUT THE AUTHOR
ROBERT JACKSON BENNETT is the author of four novels, including Mr. Shivers and American Elsewhere, which have received honors that include the Edgar Award, the Shirley Jackson Award, and the Special Citation of Excellence from the Philip K. Dick Award, and have appeared on many "best of the year" lists. Bennett was born in 1984 in Baton Rouge, Louisiana, and currently resides in Austin, Texas, with his wife and son.
Related Posts: