Press Releases
CITY OF MIRACLES by Robert Jackson Bennett
The epic finale to the Divine Cities trilogy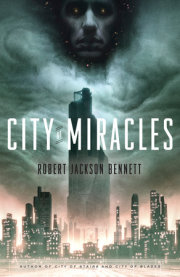 Robert Jackson Bennett
Imprint: Broadway Books
On sale: May 2, 2017
Price: $16.00
Pages: 464
ISBN: 9780553419733
Contact:
Alex Larned
212-572-2247
alarned@penguinrandomhouse.com
Advance Praise for CITY OF MIRACLES
"Bennett concludes his Divine Cities trilogy (City of Stairs, City of Blades) with a stunning and heartbreaking tale of sacrifice amid magic and spycraft. . . . The bittersweet ending, which elegantly and definitively caps off the novel and the trilogy, will have readers reaching for the tissues."
—Publishers Weekly (starred review)
"A divine trilogy ends on a high note. . . . Bennett explores the fascinatingly complex gods of the Continent and the magic they left in the world, bringing the series to a satisfying close."
—Library Journal (starred review)
"Dark and violent but a tale well spun and with a most satisfying conclusion. Just stay out of the way of the flying fickle Finger of Kolkan. . . ."
—Kirkus Reviews
"Bennett's spot-on world building aids the new and old reader alike as they plunge into a world where deities exert force on characters and events and a revenge plot involving a super-assassin is normal."
—Booklist
Master fantasy and science fiction novelist Robert Jackson Bennett has written seven books in the last eight years, amassed a heap of awards, and now, with CITY OF MIRACLES (Broadway Books; May 2, 2017), completed his first epic trilogy—and he's barely 30 years old.
CITY OF MIRACLES, the final installment of his Divine Cities trilogy, is Robert Jackson Bennett's strongest work yet. A wildly imaginative and deeply felt finale, CITY OF MIRACLES takes you by the wrist and pulls you along at a pace quick enough to tear your ligament (its weatherworn protagonist Sigrud je Harkvaldsson certainly tears a few). And yet, for all of the supernatural battles and edge-of-death chases, this book never sacrifices the keen intellectual insight that sets Bennett's writing apart. Do not look for cheap carnival thrills here. At least do not just look for thrills, because as the post-battle debris settles you will realize that Bennett has probed complex issues such as childhood trauma, colonization, and the moral ramifications of violence, along with the nature of history, redemption, and belief.
CITY OF MIRACLES reads beautifully as either a stand-alone novel or a sequel. But you should know, if you are a newbie, that critics and fans have been waiting for this installment since book one, where Sigrud je Harkvaldsson made his appearance as a tough-as-nails sidekick. Brent Weeks, New York Times bestselling author of The Way of Shadows, said, "Oh my God, Sigrud. You guys are going to love Sigrud," and the Washington Post couldn't look away, writing, "Shara's hit-man secretary delivers nonstop action." Now, in CITY OF MIRACLES, Sigrud is finally the protagonist.
Sigrud je Harkvaldsson has nothing left to live for. He is a fugitive and an exile, wanted for murder throughout the empire of Saypur. His entire existence has seemed only to visit suffering and death upon those he wants most to protect—while he himself has emerged from each battle cruelly unscathed, inexplicably immune to forces both natural and divine. Then his closest friend and ally, former Prime Minister Shara Komayd, is assassinated. Suddenly, Sigrud's life has a purpose: to find Shara's killers and make them suffer for what they've done. But Shara's assassin is no mere mortal, and her murder was just the beginning. Using death after death to fuel his powers, the killer plans to bring down a night of eternal darkness, and rule within it. Only Sigrud—and the strange curse that has destroyed his life—can stop him.
Robert Jackson Bennett has been praised again and again for his exploration of social and political issues through his genre-transcending work. The Seattle Times called City of Stairs, the trilogy's first book, "an entertaining yet thought-provoking experiment in racial reversals" and the New York Times Book Review wrote, "The book is labeled epic fantasy, but there's no hint of staid European medievalism in its pages." City of Blades, the trilogy's second book, earned a starred review from Publishers Weekly, who called it "astonishingly good . . . a riveting and often heartbreaking case against war . . . a deep, powerful novel that's worth reading and rereading." And in Bennett's recent appearance at the Brooklyn Book Festival, he spoke alongside powerhouse authors N. K. Jemisin and Sarah Beth Durst about using fantasy to explore "dangers not just on a physical level, but in myriad forms such as colonial and social oppression, toxic social structures, geographic fragility, and magical/divine retribution" (Tor.com).
With the much anticipated CITY OF MIRACLES and the completion of the Divine Cities series, Robert Jackson Bennett, whom Kirkus has called a "master of the genre," joins the likes of China Miéville and Charlie Jane Anders as one of the best fantasy writers of our times. This book's praises will be sung from the highest towers of the literati to the dankest dungeons of geekdom—the CITY OF MIRACLES is calling.
About the Author: ROBERT JACKSON BENNETT was born in Baton Rouge, Louisiana, but grew up in Katy, Texas. He attended the University of Texas at Austin and, like a lot of its alumni, was unable to leave the charms of the city. He resides there currently with his wife and sons.
Awards for Robert Jackson Bennett
Two-time Shirley Jackson Award Winner for Best Novel
Edgar Award Winner
Sydney J. Bounds Award Winner for Best Newcomer
Philip K. Dick Award Citation of Excellence
Finalist for the 2015 World Fantasy, Locus, and British Fantasy Awards
Goodreads Choice Awards Nominee, Best Fantasy of 2016

Related Posts: