Press Releases
CITY OF BLADES by Robert Jackson Bennett
Award-winning author Robert Jackson Bennett returns with his highly anticipated sequel to the acclaimed CITY OF STAIRS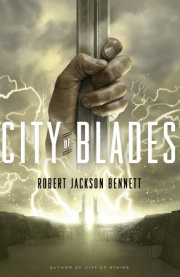 Robert Jackson Bennett
Imprint: Broadway Books
On sale: January 26, 2016
Price: $15.00
Pages: 496
ISBN: 9780553419719
Contact:
Hannah Frail
212-572-2247
hfrail@penguinrandomhouse.com
Praise for CITY OF BLADES
"Astonishingly good . . . a deep, powerful novel that's worth reading and rereading."
—Publishers Weekly, starred review
"Building beautifully upon the richly detailed world introduced in the first book of the series, Bennett serves a stew of fantasy and adventure with a healthy dose of humor and a ladle full of violence."
—Library Journal, starred review
"Richly detailed and expertly plotted. A grand entertainment."
—Kirkus Reviews
 "Bennett returns to the postapocalyptic fantasy world he created to much critical and reader acclaim in City of Stairs. . . . . Like the very best speculative fiction, the novel immerses readers in a made-up world, only to force us to take a harder look at the real one."
—Booklist
"World building is a challenge but Robert Jackson Bennett's books succeed in creating believable places filled with suspense and thrills to astound and amaze. . . . Certainly one of the more talented science fiction/fantasy writers around."
—Raul Chapa at BookPeople
Making a bid for the most acclaimed fantasy novel of 2014, Robert Jackson Bennett's City of Stairs received rave reviews and multiple award nominations, and brought a new audience to his work. Readers and critics alike tore through this smart, genre-transcending fantasy, and Bennett has done it again with CITY OF BLADES (Broadway Books, January 26, 2016).
Intended to function as both a stand-alone novel and a sequel, CITY OF BLADES takes us to a new setting in Bennett's brilliantly imagined world, introducing us to another ruined city with a deadly past and a powerful mystery lurking inside it—and placing a different character on center stage as our narrator and protagonist.
This time, the story narrows in on Voortyashtan, a city that was once the seat of the fearsome god of war and death, Voortya, and the place from which her terrifying sentinels were dispatched to kill and subjugate millions.
Now, that god is dead. The city lies under military occupation, subject to an uneasy peace frequently interrupted by sectarian infighting, bloody guerilla insurgencies, and the occasional assassination of high-ranking officers.
All of which makes it the perfect punishment posting for a cranky, lame-duck officer.
General Turyin Mulaghesh—famed hero, rumored war criminal, high-profile ally of an embattled prime minister, and possessor of the foulest mouth in all the empire—is exactly that officer. And as far as anyone knows, she's being shuffled off to Voortyashtan with her usual bad grace, where she's expected to quietly count out the days before she draws her pension and heads off to be forgotten.
But the truth is that the general's on one last mission, dispatched under the strictest secrecy to investigate a discovery that could destroy the world. Because while Voortya is dead, her most horrifying creations may not be.
With this series, Bennett joins the ranks of some of the best epic fantasy writers of our time—Kirkus Reviews called him a "master of the genre." Set in a stunningly imaginative world infused with a palpable weight of history, CITY OF BLADES offers more remarkable plot twists, delightful characters, and intrigue at every turn.
About the Author
ROBERT JACKSON BENNETT has won the Edgar Award, the Shirley Jackson Award, and the Philip K. Dick Citation of Excellence. Bennett was born in Baton Rouge, Louisiana, but grew up in Katy, Texas. He attended the University of Texas at Austin and, like a lot of its alumni, was unable to leave the charms of the city. He resides there currently with his wife and son.
Related Posts: