Press Releases
Citrus by Valerie Aikman-Smith and Victoria Pearson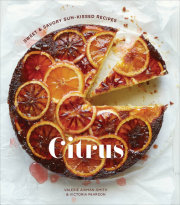 Valerie Aikman-Smith and Victoria Pearson
Imprint: Ten Speed Press
On sale: August 25, 2015
Price: $19.99
Pages: 192
ISBN: 9781607747673
Contact:
Erin Welke
(510) 285-2948
erin.welke@tenspeed.com
Praise for CITRUS
"The simple but evocative title draws me to this book. Inside, favorite, uncomplicated recipes are lovingly illustrated, further enticing me to try every dish. Citrus encourages us to bake and cook and compose as we have never yet done with this most flavorful of ingredients—ubiquitous and plentiful oranges, lemons, limes, tangerines, grapefruits, and the best of the rest of the citrus family."
 —Martha Stewart, founder of Martha Stewart Living Omnimedia
"Citrus makes everything better. Valerie and Victoria have captured its sweet and spiky magic in this collection of beautiful, easy food and drink recipes. I want to eat my way through this book!"
 —Anna Thomas, author of The Vegetarian Epicure and Love Soup
---
Masterful duo Victoria Pearson and Valerie Aikman-Smith present their passion project—Citrus—a visually stunning collection of inventive, foolproof recipes that highlight the sunny ingredient of citrus, from the ubiquitous lemon, lime, and orange to the more obscure kumquat and yuzu.
Thoughtful, personal, and vibrant-a love for all things bright and tangy is chronicled in this elegant compilation of recipes featuring every common and exotic type of citrus-from Pixies and Ruby grapefruit to Valencia oranges and citron. Citrus is accessible, yet sophisticated, as Victoria and Valerie capture the beauty of citrus at the market, on the plate, and in the colorful citrus groves surrounding Victoria's Southern California home.
Lushly illustrated dishes will entice readers into their kitchens to fully savor winter's bounty. Meals, snacks, and treats including Grapefruit and Gin Marmalade, Tangerine Sticky Ribs, and Burnt Sugar Lemon Tart highlight the versatility of their juicy ingredients: zest the skin to make salt, peel the skin and candy it, cut up the flesh and add it to salads or bake it with roast duck.
Despite the availability and versatility of citrus (surely everyone has a lemon or lime in their house right now), this is surprisingly the first beautiful cookbook devoted to the fruit. And, while citrus is available year-round, it really shines in the fall and winter when most other fruits have faded, making Citrus a must have for the season.
ABOUT THE AUTHOR
Valerie Aikman-Smith is a cookbook author and food stylist. She cooked at Greens restaurant in San Francisco before applying her chef skills to food styling and writing. She is the author of Salt, Smoke & Spice, Juicy Drinks, Pickled & Packed, and Cooking in Cast Iron.
Victoria Pearson is a photographer specializing in food, still life, travel, and beauty. Her extensive client list includes Crate & Barrel, Food & Wine magazine, Giada De Laurentiis, Gourmet magazine, Martha Stewart Living, Pottery Barn, Town & Country, Travel & Leisure, and Williams-Sonoma.
Related Posts: