Press Releases
CHRONICLE OF A LAST SUMMER: A Novel of Egypt, by Yasmine El Rashidi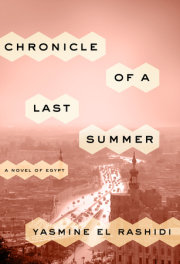 Yasmine El Rashidi
Imprint: Tim Duggan Books
On sale: June 28, 2016
Price: $22.00
Pages: 192
ISBN: 9780770437299
Contact:
Rebecca Welbourn
212-782-9634
rwelbourn@penguinrandomhouse.com
Praise for CHRONICLE OF A LAST SUMMER
"There's beauty in how the novel shows what its characters know while showing their efforts not to know this same information. . . . An atmospheric kaleidoscope about survival and the moments that, together, become movements." —Kirkus Reviews
"An uncannily clairvoyant and astute portrayal of metropolitan life in Egypt. Yasmine El Rashidi's book offers both an unsparing glimpse into Cairo after the Arab Spring and a moving account of a young Egyptian woman's maturation from early girlhood through adolescence and adulthood​." —André Aciman, author of Harvard Square
"Yasmine El Rashidi's debut is politically minded, but with a beating heart at its core—a beautiful alchemy between an achingly human coming-of-age story and a political examination of a country with a deep, nuanced history." —Elle.com
"A moving and memorable portrait of a girl growing up under a repressive regime, struggling with its imposed silences, and finding her voice. In clear and elegant prose, Chronicle of a Last Summer probes the space in which the personal and the political meet and, at times, collide." —Laila Lalami, author of The Moor's Account
"A moving novel about a woman's coming-of-age in a country that tried to silence her." —TravelandLeisure.com
"An elegant snapshot of how one life is lived within the historical storm." —Eimear McBride, author of A Girl Is a Half-formed Thing
"El Rashidi is a sculptor of language, using words and silence to examine some of our most profound questions about love, family, and the cost of freedom. Chronicle of a Last Summer is more than a story about a young woman's life, it is a testament to the stubborn endurance of hope. Read this beautiful book not to better understand a nation, but to discover a new vocabulary with which to comprehend our complicated human condition." —Maaza Mengiste, author of Beneath the Lion's Gaze

"Chronicle of a Last Summer is an elegy for a city and a story of growing up submerged in other people's memories. There are novels that stay with you long after you turn the last page. This is one of them." —Daniel Alarcón, author of At Night We Walk in Circles
---
With her transcendent debut novel, CHRONICLE OF A LAST SUMMER (June 28, 2016; Tim Duggan Books), Egyptian writer and New York Review of Books contributor Yasmine El Rashidi tells the story of a young Egyptian woman's personal and political coming-of-age. Narrated during three pivotal summers in Cairo, the novel poignantly captures the pulse of a city changing before our eyes, while also exploring how we come to terms with our own past. El Rashidi, who was born, raised, and lives in Cairo, is an editor of the Middle East arts and culture quarterly Bidoun. She is currently living in New York as a 2015–2016 Cullman Center Fellow at the New York Public Library.
Cairo, 1984: a blisteringly hot summer. Our protagonist, a young girl, drifts through her sprawling family house. Her days pass quietly: listening to her mother's phone conversations, looking at the Nile from her bedroom window, watching the three state-sanctioned TV channels with the volume turned off, daydreaming about other lives. Underlying this claustrophobic routine is mystery and loss. Relatives mutter darkly about the newly appointed President Mubarak. Everyone talks with melancholy about the past. People disappear overnight. Her own beloved father has left too—why, or to where, no one will say.
We meet her during three summers and across three decades, from youth to adulthood: as a six-year-old absorbing the world around her, filled with questions she can't ask; as a college student and aspiring filmmaker preoccupied with love, language, and the repression that surrounds her; and then later, in the turbulent aftermath of Mubarak's overthrow, as a writer exploring the silences that have marked and shaped her life.
Using spare prose that draws on the modernist history of Egyptian literature, El Rashidi conjures in captivating detail the tone and texture of the protagonist's daily life in Cairo—from conversations with fruit vendors and interactions in a record store, on a bus, in a government office, to intimate moments at home and with friends discussing politics, protests, and life. At once a mapping of a city and culture in transformation, and as well the story about the shifting fates of a single Egyptian family, CHRONICLE OF A LAST SUMMER traces the fine line between survival and complicity, exploring the conscience of a generation raised in silence.
Related Posts: