Press Releases
Chris Pavone's critically acclaimed instant New York Times bestseller The Expats, now available in paperback
An incredibly twisty and sophisticated thriller about a woman and her family living abroad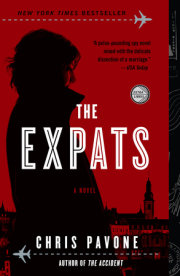 Chris Pavone
Imprint: Broadway
On sale: January 22, 2013
Price: $15.00
Pages: 352
ISBN: 9780770435721
Contact:
Dyana Messina
212-572-2098
dmessina@randomhouse.com
Praise for THE EXPATS
"Sly . . . Pavone strengthens this book with a string of head-spinning revelations in its last pages. . . . The tireless scheming of all four principals truly exceeds all sane expectations." —New York Times 
"Urbane and sophisticated, The Expats is a pulse-pounding spy novel mixed with the delicate dissection of a marriage." —USA Today 
"Smartly executed . . . Pavone is full of sharp insights into the parallels between political espionage and marital duplicity. . . . Thoroughly captivating." —New York Times Book Review 
"Bombshell-a-minute . . . Pavone creates a fascinating, complicated hero." —Entertainment Weekly 
"Amazing . . . Impossible to put down. . . . Pavone invokes memories of the great writers of spy fiction of the past, and he has the chops to be mentioned with the best of them." —Associated Press
"I often thought I was again reading the early works of Ken Follett, Frederick Forsyth, and Robert Ludlum. Smart, clever suspense, skillfully plotted." —John Grisham
"Bristling with suspense and elegantly crafted, The Expats introduces a compelling and powerful female protagonist you won't soon forget. Well done!" —Patricia Cornwell
When Chris Pavone moved to Europe with his family after his wife took a new job in Luxembourg, he quickly realized that he was not entirely prepared for the expat life. Having recently left behind a two-decade-long career as a book editor in New York, he suddenly found himself adrift in a sea of stay-at-home moms, a lone dad whose existence was now defined by playdates and housework. As he grappled with an unfamiliar role that called his very identity into question, he found himself wondering about the women who were his newfound peers: Who was that mother on the next playground bench? What had she been in her previous life, and what secrets could she be hiding?
Called "thoroughly captivating" (New York Times Book Review) and "bombshell-a-minute" (Entertainment Weekly), THE EXPATS was published to great acclaim in March 2012. Now, Broadway is thrilled to bring this fast-paced, riveting, and sophisticated novel to an even wider audience with the paperback edition of Pavone's stunning thriller.
Set against a richly atmospheric background of suspense and intrigue, THE EXPATS (Broadway; January 22, 2013) introduces an indelible and deeply engaging female heroine. At first glance, Kate Moore is an ordinary American expat mom whose days are filled with coffee mornings and the mundane demands of child care. But Kate is also guarding a secret: until recently she'd been leading a double life as a CIA agent, traveling the globe on increasingly dangerous covert missions. After her job drives her to commit an unforgiveable act, Kate is ready for a less eventful life, and her husband Dexter's new job as a financial systems security consultant in Luxembourg provides the perfect exit strategy. But still she remains unable to bring herself to reveal her secret to him.
As Kate struggles to adapt to her new expat existence, always wondering when her past will catch up with her, her spook instincts take over and she grows suspicious of those around her. There's an overly friendly American couple, Bill and Julia, who clearly are not who they say they are, and who Kate suspects may be assassins; and Dexter has become withdrawn, evasive, and unhealthily absorbed in his work, which mysteriously leads him to come home with mud-stained shoes. When Kate breaks her vow to never investigate her own husband and begins to dig for the truth, her world quickly unravels as she discovers that Dexter has been harboring an explosive secret of his own—and that he may be involved in a dangerous scheme involving shell corporations, unforgiven war crimes, and the brazen theft of 50 million euros.
Transporting readers from the cobblestoned streets of Luxembourg to the snow-capped peaks of the Alps to an unforgettably climactic scene in Paris, THE EXPATS is an international thriller in the tradition of established masters such as John Le Carré, Ken Follett, and Frederick Forsyth. At the same time, it is a skillfully drawn, character-driven exploration of marital deception that breaks the bounds of the espionage genre and will appeal broadly to fans of psychological suspense.
THE EXPATS has introduced Chris Pavone as a serious new talent to be watched—and as a writer with the rare gift of keeping readers enthralled and guessing until the very last page.
ABOUT THE AUTHOR: Chris Pavone, a book editor for nearly two decades, recently returned to New York City after a sojourn to Luxembourg. The Expats is his first novel. You can find Chris and The Expats on Facebook at www.facebook.com/expatsbook.
Related Posts: