Press Releases
Chloe Flavor by Chloe Coscarelli
Saucy, Crispy, Spicy, Vegan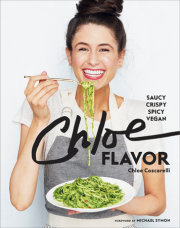 Chloe Coscarelli
Imprint: Clarkson Potter
On sale: March 6, 2018
Price: $27.99
Pages: 272
ISBN: 9780451499622
Contact:
Erica Gelbard
EGelbard@penguinrandomhouse.com
In Chloe Flavor: Saucy, Crispy, Spicy, Vegan (Clarkson Potter | March 6, 2018 | $27.99 | Hardcover), Chloe Coscarelli, one of the most sought-after, celebrated, personable, and energetic vegan chefs of our time, debunks the myth that plant-based food is bland and boring with her bright, colorful, and flavorful dishes.
Chloe believes the most delicious food comes from plant-based ingredients, and for more than ten years, she has been at the forefront of the vegan revolution. With 125 recipes, more than 100 stunning photographs, and a foreword by Chef Michael Symon, Chloe Flavor is bold in taste, loud in color, unabashedly unique, and, above all, has recipes that are easy to make. Sample recipes featured in Chloe Flavor include:
BREAKFAST & BRUNCH: Cinnamon Roll Pancakes; The McVegan Breakfast Sandwich; No-Huevos Rancheros; Smoky Grits & Greens
SNACKS & SIDES: Roasted Carrot Hummus; Apricot-Sesame Cauliflower Wings; Oven Fries with Roasted Beet–Ginger Ketchup; Thai Tofu Satay
SOUPS & SALADS: Healing Cream of Greens Soup; Mexican Caesar Salad; Peanut Kale Crunch Salad; Sweet Corn Chowder
SANDWICHES, BURGERS & TACOS: Bacon Lover's BLT; Brussels Sprouts Tacos; Meatball Parm; Tangy Maple BBQ Burgers
NOODLES & PASTA: Beet Fettuccine Alfredo with Basil Ricotta; Easy Pad Thai; White Shells & Cheese; Sriracha Tempeh Alfredo
BOWLS & PLATED DISHES: Chinese Eggplant with Spicy Garlic Sauce; Firehouse Chili with Cornbread Muffins; General Tso's Tofu; California Nachos
COCKTAILS, SMOOTHIES & DRINKS: Vegan Nog; Vanilla-Date-Matcha Smoothie; Rosemary Lemonade; Boozy Root Beer Float
DESSERT: Pistachio Ice Cream; Mint Chocolate Crinkle Cookies; Oatmeal Cake with Coconut Caramel Glaze; Chocolate Strawberry Shortcake Cupcakes
Whether you've never boiled water or you consider your brunoise skills Michelin-star worthy, whether you're a chard-loving vegan or die-hard burger lover, if you love flavorful, hearty, affordable, mind-blowing meals, Chloe Flavor has something for you.

ABOUT THE AUTHOR:
First breaking onto the culinary scene as the only vegan chef to capture the top prize on Food Network's Cupcake Wars, Chef Chloe Coscarelli has since been recognized for bringing vegan cuisine to the mainstream as an award-winning chef, successful entrepreneur, and bestselling cookbook author. She has published three bestselling cookbooks and lives in New York City.
#  #  #
CHLOE FLAVOR
Saucy, Crispy, Spicy, Vegan
by Chloe Coscarelli
Clarkson Potter/Publishers
On sale March 6, 2018
$27.99 hardcover | ISBN 978-0-451-49962-2
Related Posts: