Press Releases
Chia Vitality by Janie Hoffman
30 Days to Better Health, Greater Vibrancy, and a More Meaningful and Purposeful Life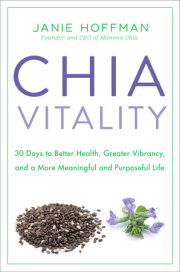 Janie Hoffman
Imprint: Harmony Books
On sale: April 1, 2014
Price: $16.00
Pages: 256
ISBN: 9780804139786
Contact:
Lauren Cook
212-782-9486
LCook@RandomHouse.com
It's smaller than a freckle, but the chia seed's invigorating health benefits make it nature's perfect superfood. These tiny seeds were used by the Mayans and Aztecs, and possess an unparalleled blend of nutrients to help fight disease, increase vitality, and boost vigor. Gram for gram, there really isn't anything like chia: it has 70 percent more protein than soybeans, 25 percent more fiber than flaxseed, 30 percent more antioxidants than blueberries, 600 percent more calcium than milk, and is the richest known source of plant-based omega-3s.
CHIA VITALITY:  30 Days to Better Health, Greater Vibrancy, and a More Meaningful and Purposeful Life  is a 30-day energy-boosting program that holds chia at its center. Janie Hoffman, founder of Mamma Chia, has created a program that nourishes the body, mind, and soul with a combination of yoga, meditation, service and, of course, the amazing chia seed. The 30-day meal plan shows you how to transform your eating habits with chia and other delicious, clean foods, while the daily meditations and refreshing yoga practice give you the inspiration and tools you need to revitalize your life. This plan harnesses the power of chia to help boost your stamina, lose weight, get healthier, and feel more alive than ever before in just 30 days.
Janie Hoffman speaks from experience about the many benefits of chia. Hoffman suffered from a variety of severe autoimmune issues that left her with barely enough energy to leave the house, muscle fatigue that prevented her from doing simple tasks, and horrible side effects—ranging from skin disorders to hair loss and extreme muscle pain. After years of trying Western medicine, she turned to alternative methods, including meditation, an organic diet and, eventually, the chia seed. Within three months of making chia a daily part of her diet, she was symptom-free. Moreover, she found chia so energizing and versatile that she was incorporating it into everything from beverages to baked goods and snacks.
In addition to Hoffman's inspirational story and her 30-day plan, CHIA VITALITY includes recipes such as Green Tea Chicken and Grape Salad, Chia Sweet Potato "Fries," and Chia Guacamole as well as an appendix with a 25-minute yoga practice.  
###
 About the Author: Janie Hoffman is the founder and CEO of Mamma Chia, an award-winning organic chia-based food and beverage company, and the creator of the first-to-market chia seed beverage. In just a few short years, Janie has helped raise awareness of the chia seed, making it one of the top new health ingredients used in everything from beverages to baked goods. Janie previously taught meditation and consciousness studies in North America and Asia and currently works to promote conscious business practices and healthy lifestyles. She lives with her husband on their small avocado farm in rural San Diego County.
Related Posts: