Press Releases
CHASING PHIL by David Howard
The Adventures of Two Undercover Agents with the World's Most Charming Con Man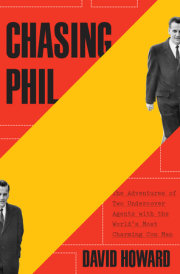 David Howard
Imprint: Crown
On sale: October 10, 2017
Price: $28.00
Pages: 384
ISBN: 9781101907429
Contact:
Sarah Jean Grimm
212-782-8637
sgrimm@penguinrandomhouse.com
David Howard's CHASING PHIL: The Adventures of Two Undercover Agents with the World's Most Charming Con Man (Crown; October 10, 2017) is a true crime story based on the FBI's first white-collar undercover sting. The book has already been optioned by Warner Brothers on behalf of Robert Downey, Jr., who intends to produce and star in the film adaptation. A classic caper in the vein of Frank Abagnale's Catch Me if You Can and the David O. Russell film American Hustle, CHASING PHIL is high drama and propulsive reading.
Bursting with colorful characters and awash in seventies-era glamour, CHASING PHIL is immersive nonfiction at its finest. This is the story of the birth of the FBI as we know it today—and of the first ever wire-wearing operation to target white-collar crime. Con artist extraordinaire Phillip Kitzer spent much of 1977 traveling the world with two young protégés who were smart, funny, and eager to learn… and who also happened to be undercover FBI agents. David Howard, who has written for outlets including the New York Times, Men's Journal, Outside, and Travel + Leisure, gained remarkable access to the FBI agents at the heart of the story, allowing him to deliver vivid scenes peppered with real dialogue.
It's 1977 at the Thunderbird Motel. J.J. Wedick and Jack Brennan—two fresh-faced, maverick FBI agents—are about to embark on their agency's first wire-wearing white-collar undercover mission. Their target is charismatic, globe-trotting con man Phil Kitzer, whom some called the world's greatest swindler. From the Thunderbird, the three men take off to Cleveland, Miami, Hawaii, and Frankfurt—meeting other members of Kitzer's crime syndicate, known as the Fraternity, at each stop and witnessing firsthand how he fooled powerful politicians, bankers, and entrepreneurs. But as the young agents become further entangled in Kitzer's outrageous schemes and drawn deeper into his world, they also grow to respect him and even care for him. And Kitzer began to think of Wedick and Brennan as close friends, sharing hotel rooms and inside jokes, and roping them in for wild nights at places like Studio 54. That extraordinary and unlikely friendship forms the emotional center of this fast-paced, jet-setting sting.
Operation Fountain Pen, as the case was called, was the first of its kind, and one of the most unusual and important investigations in FBI history. During J. Edgar Hoover's nearly fifty-year reign as director, the bureau didn't consider white-collar crime to be part of its mission—even though Kitzer and his associates were stealing far more than any of the bank robbers the FBI reflexively pursued. Nor did agents go undercover except in extremely unusual circumstances. Yet after gaining Kitzer's trust (despite receiving no training in undercover work and lots of resistance from their bosses at the bureau), Brennan and Wedick were able to unravel each thread of his intricately woven tapestry of financial deceit, forever changing the way the FBI did business by helping to usher in and standardize undercover operations. Their work with Kitzer, in fact, led directly to the FBI's seminal Abscam case (of American Hustle fame). But perhaps the most surprising outcome of the investigation was that Brennan, Wedick, and Kitzer formed a bond powerful enough to survive the betrayal their relationship was built upon—an enduring connection that paid off for the FBI long after the investigation ended.
Related Posts:
You Might Also Like