Press Releases
THE CHALK MAN by C.J. Tudor
THE MUST-READ THRILLER OF 2018, THIS RIVETING PSYCHOLOGICAL SUSPENSE DEBUT WEAVES A MYSTERY ABOUT A CHILDHOOD GAME GONE DANGEROUSLY AWRY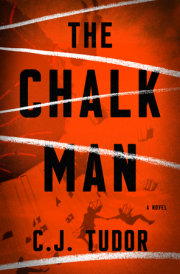 C.J. Tudor
Imprint: Crown
On sale: 1/9/2018
Price: $27.00
Pages: 288
ISBN: 9781524760984
Contact:
Rachel Rokicki
212-782-8455
rrokicki@penguinrandomhouse.com
*SOLD IN OVER 38 TERRITORIES AROUND THE WORLD*
**A January Indie Next List Pick**
***A Barnes and Noble Discover New Writers Pick***
****A Book of the Month Club Selection****
                     Select Praise for THE CHALK MAN 
"Tudor delivers an assured debut that alternates between 1986 and 2016 with unpredictable twists. The Chalk Man fits well with other stories about troubled childhoods such as Stephen King's novella 'Stand by Me'… Tudor never misses a beat in showing each character as both a child and an adult while also exploring the foreboding environs of a small town." —Associated Press
"If you can't get enough of psychological thrillers with sharp twists and turns, you need to read The Chalk Man." —HelloGiggles
"A well-written novel of deep resentments, long-stifled conscience, and justice a long time coming… As a debut novel, this one is a winner. There's no doubt readers will be looking forward to more from C. J. Tudor." —New York Journal of Books
"Atmospheric… High on the creep factor… Reminiscent of Stephen King and Tana French… There were some twists that I did not see coming. If you're into creepy thrillers… get your hands on this book." —Book Riot's "Read or Dead" podcast
"A beautifully written debut thriller… full of thoughtful, eerie plot twists." —The Day
"Readers will undoubtedly be reminded of the kids of Stand by Me and even IT…[the] first-person narration alternates between past and present, taking full advantage of chapter-ending cliffhangers. A swift, cleverly plotted debut novel that ably captures the insular, slightly sinister feel of a small village. Children of the 1980s will enjoy the nostalgia." —Kirkus Reviews
"[A] promising debut…with the nightmarish inevitability of the Grimmest of tales…her storytelling prowess is undeniable." —Publishers Weekly 
"[A] gripping debut mystery/thriller… Readers who relish dark, twisty thrillers will be kept guessing. Taut plotting, smooth writing, and a compelling premise will satisfy fans of Jo Nesbø, Camilla Läckberg, and Tana French." —Library Journal  
"An absorbing debut with a well-crafted mystery and a solid dose of Stand by Me creepiness." —Booklist
 "I haven't had a sleepless night due to a book for a long time. The Chalk Man changed that."
—Fiona Barton, New York Times bestselling author of The Widow
In C.J. Tudor's incredible debut THE CHALK MAN (Crown; January 9, 2018), Tudor takes readers on a thrilling journey through the characters' damaged psyches in a manner reminiscent of Gillian Flynn and Tana French.
In 1986, Eddie and his friends are just kids on the verge of adolescence. They spend their days biking around their sleepy little English village and looking for any taste of excitement they can get. The chalk men are their secret code; little chalk stick figures they leave for one another as messages only they can understand. But then a mysterious chalk man leads them right to a dismembered body, and nothing is ever the same.
In 2016, Eddie is fully grown, and thinks he's put his past behind him. But then he gets a letter in the mail, containing a single chalk stick figure. When it turns out that his friends got the same message, they think it could be a prank…until one of them turns up dead. That's when Eddie realizes that saving himself means finally figuring out what really happened all those years ago.
Expertly alternating between flashbacks and the present day, THE CHALK MAN is the very best kind of heart-pounding story, one where every character is wonderfully fleshed out and compelling, where every mystery has a satisfying payoff, and where the twists will shock even the savviest reader. This propulsive debut establishes C.J. Tudor as one of the most brilliant and promising new voices of the genre.
About the author: C. J. TUDOR lives in Nottingham, England, with her partner and young daughter. Over the years she has worked as a copywriter, television presenter, voice-over, and dog walker. She is now thrilled to be able to write full-time, and doesn't miss chasing wet dogs through muddy fields all that much. The Chalk Man is her first novel.
THE CHALK MAN
By C.J. Tudor
Crown | On Sale January 9, 2018 | Pages: 288 | Price: $27.00
ISBN: 978-1-524-76098-4 | Ebook ISBN: 978-1-524-76100-4
crownpublishing. com; @CJtudor
Related Posts:
You Might Also Like