Press Releases
CENTERED LEADERSHIP from Joanna Barsh and Johanne Lavoie
Learn to lead with purpose, clarity, and impact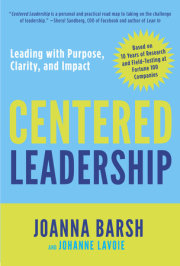 Joanna Barsh and Johanne Lavoie
Imprint: Crown Business
On sale: March 18, 2014
Price: $26.00
Pages: 336
ISBN: 9780804138871
Contact:
Ayelet Gruenspecht
212-782-9016
agruenspecht@randomhouse.com
In 2004, Joanna Barsh set out on her multi-year research to uncover what distinguishes leaders who are merely successful from those who achieve true greatness. The answer: Centered Leadership. The Centered Leadership Program has become one of McKinsey & Company's flagship offerings for clients, with its unique opportunity for senior executives to shape how they personally influence and effectively lead transformational change. In their new book, CENTERED LEADERSHIP:  Leading with Purpose, Clarity, and Impact, Joanna and McKinsey leadership expert Johanne Lavoie, bring these practices to everyone aspiring to develop as leaders. This definitive set of practices enables leaders to manage their thoughts, feelings and actions even in moments of uncertainty and chaos – and to inspire others to do the same.
In CENTERED LEADERSHIP, the authors build on the first five years of research underpinning Barsh's business bestseller How Remarkable Women Lead, bringing in extensive new interviews and drawing on five years additional experience teaching Centered Leadership, to deliver you their proven Centered Leadership Program on the page. Lauded by some of the most successful leaders— men and women alike— in corporate America, this program provides the actionable tools, skill-building activities and concrete practices needed to build and sustain the kind of leadership necessary to create positive and profound change.
These tools and exercises, accompanied by inspiring stories, help readers gain the skills, courage and confidence to lead in new ways. The book's core toolkit has been extensively field tested, taught, and proven effective in programs delivered across a range of industries and markets. Centered Leadership has five dimensions: Meaning, Framing, Connecting, Engaging, and Energizing.  Interactive tools and lessons include:
(Re)discovering what really matters and what you most want to create, and living into your strengths
Understanding your needs and fears, learning to pause in the moment of an upset and shift to create the experience you choose
Forging trust and community in service of the vision you want to achieve
Crafting a compelling story to align, engage, and mobilize others—and bring your story to life
Practicing recovery in short time periods at work in order to sustain the energy needed to lead.
In today's world— a world where industries are being disrupted without warning, the pace of change has accelerated beyond our wildest imaginations, and technology is transforming our workplace virtually overnight— what we need now, more than ever, are leaders who aspire to make a profound difference. What we need is Centered Leadership.
Related Posts:
You Might Also Like