Press Releases
Catalan Food by Daniel Olivella with Caroline Wright
Culture and Flavors from the Mediterranean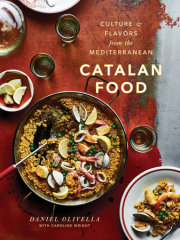 Daniel Olivella with Caroline Wright
Imprint: Clarkson Potter
On sale: September 4, 2018
Price: $30.00
Pages: 272
ISBN: 9780451495884
In Catalonia, food is what brings people together—whether neighbors, family, or visitors. By the sea, over a glass of chilled vermouth and homemade pica-pica (tapas), you'll find the most authentic Catalonia. This Spanish region is known for its wildly diverse indigenous ingredients, from Mediterranean seafood to jamon Ibèrico to plump strains of rice, and its richly flavored cuisine has remained uniquely Catalan throughout its complex and fraught history. In this spirit, native Catalan chef Daniel Olivella serves historical narratives alongside 80 carefully curated recipes in Catalan Food: Culture and Flavors from the Mediterranean (Clarkson Potter | $30 | on sale September 5, 2018).
In his stunning debut cookbook, Olivella, who was born and raised in Catalonia before coming to the US, shares the culture and heritage of which he is fiercely proud. These authentic Catalan recipes are rooted in the traditional yet modern approach he takes at his Austin restaurant, Barlata. This simple, fresh food is intended to be cooked leisurely and with love. You'll revel in recipes for classic paellas as well as Lamb Empanadas with Mojo, Catalan Potato and Onion Omelet, Fried Potatoes with Spicy Tomato Sauce and Aioli, and Churros with Hot Chocolate. Other highlight recipes include:
Pica-Pica (Little Bites): Catalan Tomato Bread; Shredded Salt Cod Salad with Tomatoes and Olives, Ibèrico Ham Croquettes; Fried Squid with Fennel
Verdures I Llegums (Vegetables and Beans): Catalan Vegetable Ragout; Texas Peach and Tomato Salad with Goat Cheese; Fresh Favas with Peas; Stewed Chickpeas with Spinach
Paelles, Arrosos I Fideus (Paella, Rice, and Noodles): Seafood Paella; Roasted Rice Paella; Vegetarian Paella; Fideo Noodle Paella
Del Mar a la Taula (From the Sea to the Table): Mussels with Sofrito; Octopus with Caramelized Onion Tomato Sauce; Shrimp, Scallop, and Octopus Ceviche; Pureed Salt Cod with Mashed Potatoes
Del Corral (From the Corral): Rabbit Confit; Duck with Prunes and Pine Nuts; Catalan Meat and Vegetable Stew; Oxtail in Red Wine Sauce; Beef-Chorizo Hamburger with Manchego
El Nostre Amic, El Pork (Our Friend, the Pig): Grilled Chorizo and Chickpeas; Slow Roasted Pork Loin; Sweet and Sour Pork Ribs; Penne Pasta with Homemade Bacon and Tomato Sauce
Pa I Postres (Bread and Desserts): Farmer's Bread; Catalan Biscotti; Dark Chocolate Ice Cream with Chocolate-Covered Marcona Almonds; Honey and Mató Cheesecake
Studded with colorful narratives and gorgeous, transportive photos, Catalan Food reveals all the hidden secrets of Catalonia, including its capital of Barcelona, its lush wine country, and diverse food markets, all through the lens of its amazing cuisine.
# # #
About the Authors
DANIEL OLIVELLA is a chef born in Vilafranca del Penedes near Barcelona and has nearly 40 years of experience cooking authentic Catalan food for the American palate. Considered an authority on Mediterranean cuisine by many, Olivella worked for some of the best chefs in San Francisco, where he opened the popular Catalan bistro B44 in 1999. He is currently the chef and owner of Barlata in Austin, Texas, where he lives with his family.
CAROLINE WRIGHT is a cookbook author living in Seattle, Washington, with her family. She has written two cookbooks, and her recipes and writing have appeared in Food Network Magazine, Every Day with Rachael Ray, Southern Living, and Better Homes & Gardens.
# # #
About the Book
Catalan Food: Culture & Flavors from the Mediterranean
By Daniel Olivella with Caroline Wright
Clarkson Potter; $30.00; On Sale 9/5/18
ISBN: 978-0-451-49588-4; Hardcover
Related Posts:
You Might Also Like