Press Releases
Cat and Nat's Mom Truths
Embarrassing Stories and Brutally Honest Advice on the Extremely Real Struggle of Motherhood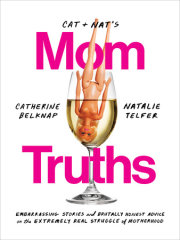 Catherine Belknap and Natalie Telfer
Imprint: Harmony Books
On sale: March 12, 2019
Price: $16.00
Pages: 224
ISBN: 9780525574910
Contact:
Tammy Blake
212.572.2542
tblake@penguinrandomhouse.com
PRAISE FOR CAT & NAT'S MOM TRUTHS
"With their mom truths that'll resonate with overwhelmed moms everywhere, Cat and Nat tell you in a hundred wildly hilarious ways the easiest thing to forget, and the most important thing to remember: You're already doing a great job." —Dawn Dais, author of The Sh!t No One Tells You About Pregnancy: A Guide to Surviving Pregnancy, Childbirth and Beyond   

"Cat and Nat's Mom Truths takes everything that's scary about being a mom and makes it hilarious." —Karen Alpert, New York Times bestselling author of I Heart My Little A-Holes
Hilarious real-life best friends, Cat (Catherine Belknap) and Nat (Natalie Telfer) became one another's lifeline when they were each in the new mom trenches. Before long, they started sharing their ultra-real and just a bit R-rated dispatches online, dropping mom truths that resonated with anyone deep in the beautiful mess that is motherhood. Now in their debut book, CAT & NAT's MOM TRUTHS: Embarrassing Stories and Brutally Honest Advice on the Extremely Real Struggle of Motherhood (Harmony Books; On-Sale March 12, 2019; $16.00; Trade Paperback Original), they share everything no one will tell you about having kids, from what not to eat a few days after giving birth (chicken wings) to the most effective ways to dodge post-partum sex.
Like talking to your most oversharing, slightly twisted, and completely hysterical best friend, CAT & NAT'S MOM TRUTHS is the perfect antidote to the madness of being a mom, revealing never-before-told stories about the stress, guilt, joy, and laundry (oh the laundry!) of being a mom. With seven kids between them and millions of fans on social media, they get real about the parts of parenting that somehow don't make the Instagram feed.
Sharing their outrageous humor, fearless myth-busting, and genuine comfort on every page, they walk you from pregnancy to the toddler years and beyond.
And they dole out ridiculously honest advice, like what you think you need at the hospital when you have your first baby (lip gloss) versus what you actually need (hemorrhoid pillow), and how worried you should really be about germs (less than you are).
Fearless crusaders against the perfection myth and all the gluten-free, sugar-free baking it entails, Cat and Nat offer the comfort, humor, and wisdom you need at your side, assuring you that you're already doing a great job, making their book an essential companion for mom's everywhere.
###
ABOUT THE AUTHORS
CATHERINE BELKNAP and NATALIE TELFER have been friends since they were teens but grew closer with motherhood when they chose to confide in each other about the more taboo topics of parenting. It wasn't long after that when they decided to bring the conversation online in hopes of helping other moms feel less isolated. Their rapidly exploding community of like-minded moms tune in every day to watch them rewrite the paradigm of "the perfect mom." Cat and Nat share everything moms think, but are too afraid to talk about. Find them online at catandnat.ca or on all social channels @catandnat.
Related Posts: