Press Releases
Cardinal and Gold by Steve Delsohn
The definitive never-before-heard history of the past 40 years of USC Trojans Football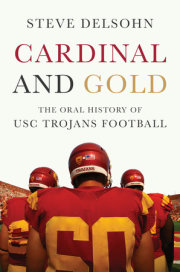 Steve Delsohn
Imprint: Crown Archetype
On sale: August 16, 2016
Price: $27.00
Pages: 336
ISBN: 9780307888402
Contact:
Ellen Folan
212-782-8944
EFolan@penguinrandomhouse.com
Praise for Cardinal and Gold
"Steve Delsohn's long history of groundbreaking reporting as both a journalist and author imbues Cardinal and Gold with a color and richness guaranteed to captivate fans of Trojans football—hell, sports of any kind. From McKay to present day you get the untold story behind USC's success on the field and the scandal off it, from those who lived it day after day. Oral histories are a high-wire act . . . and this book soars."
—Armen Keteyian, New York Times bestselling author of The System, correspondent for 60 Minutes Sports and 60 Minutes
"The most engrossing college football book I've read in ages. If you love USC—or simply love the history of America's most beloved sport—Steve Delsohn's work is all you."
—Jeff Pearlman, New York Times bestselling author of Showtime
"At its height, which was often, USC was a Trojans football empire. It rotated between regal and stunning, arrogant doomed. Steve Delsohn takes us inside the empire—way inside—with the definitive oral history of those glorious rises and those mesmerizing falls."
—Gene Wojciechowski, ESPN
"An amazing book. I couldn't put this book down. An extraordinary journey through one of college football's Mount Rushmore programs. I highly recommend this book to any college football fan. A must-read."
—Paul Finebaum, New York Times bestselling author of My Conference Can Beat Your Conference
"Steve Delsohn, once again, captures history by using the direct voices and memories of those who lived it. With striking clarity and behind-the-scenes description and stories untold, Delsohn vividly ties together the story of USC. It's a great read and is a lot of fun to reminisce!"
—Shelley Smith, ESPN  
---
From respected sports journalist Steve Delsohn comes the definitive account of University of Southern California football, told by those who know it best—the players, coaches, and everyone else who made USC football one of the most legendary programs in America.
Over the years, USC has enjoyed an almost unrivaled level of success, having won 11 national titles and 38 conference championships, and produced 7 Heisman winners, 80 All-Americans, and countless NFL stars. From Todd Marinovich and Keyshawn Johnson to Reggie Bush and Matt Leinart, some of the most memorable college players have suited up for the Trojans. And under the leadership of coaches like John Robinson and Pete Carroll, they've taken the team to some of the most celebrated big games of all time.
And yet, despite its success, perhaps no big-time football program has proven as tumultuous as USC. From battles with the NCAA to bitter internal conflicts, to all-out brawls with hated rivals like Notre Dame, the Trojans' dominance has not come without controversy.
CARDINAL AND GOLD: The Oral History of USC Trojans Football (Crown Archetype; August 16, 2016) tells, for the very first time and with unparalleled candor, the story of the program at its best and worst, offering unvarnished, behind-the-scenes insight into all of USC's most iconic moments, players, coaches, and games. It is a must-read for any fan of USC or major college football.
You Might Also Like