Press Releases
All About Cake by Christina Tosi
All About Cake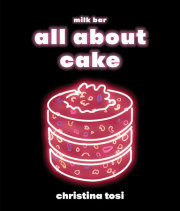 Christina Tosi
Imprint: Clarkson Potter
On sale: October 23, 2018
Price: $35.00
Pages: 288
ISBN: 9780451499523
Contact:
Erica Gelbard
EGelbard@penguinrandomhouse.com
This may be hard to believe, but growing up, Milk Bar's pastry chef mastermind Christina Tosi didn't love cake. In fact, she found it boring, almost always following the same old formula: a spongy, muted-flavored base topped with too-sweet frosting.
Fast-forward to late nights experimenting in kitchens, when Christina sat down and started really thinking about cake as she prepared to open a bakery of her own: cake should have personality! Integrity! Texture! Visual appeal! Christina believed cake had the potential to be a great vehicle for many things—perspective, point of view, flavor, as well as bits and pieces of graham, glaze, and goodness. Her cakes would have to break convention.
With creations from Christina's home kitchen as well as from Milk Bar, her beloved dessert empire and lifestyle brand, Milk Bar: All About Cake (Clarkson Potter/Publishers; $35.00; hardcover; October 23, 2018) covers Christina's wild, wonderful world of cake: from two-minute microwave mug cakes to buttery bundts and pounds, from sheet cakes, cupcakes, and her signature cake truffles to vegan cakes and, of course, her iconic naked layer cakes filled with pops of flavors and textures.
Chapters and sample recipes include:
BUNDTS, POUNDS & A FLUFFY LITTLE CAKE FROM HEAVEN: Cherry Cola Bundt Cake; Compost Pound Cake; Mommala's Angel Food Cake (from Heaven)
HOT CAKES!: Mint Chocolate Chip Molten Microwave Mug Cake; Creamsicle Crock-Pot Cake; Apple Cider Donut Crock-Pot Pudding
SHEET CAKES FOR THE MASSES: Baller Birthday Sheet Cake; Corn and Blueberry Sheet Cake; Arnold Palmer Sheet Cake
CUPCAKES (if you must): Lemon Meringue Cupcakes; Strawberry-Coconut Cupcakes; German Chocolate Cupcakes
CAKE TRUFFLES MAKE THE WORLD GO 'ROUND: Chocolate Malt Cake Truffles; Popcorn Cake Truffles; Dulce de Leche Cake Truffles
GET FANCY WITH LAYER CAKES: Popcorn Layer Cake; Key Lime Pie Layer Cake; Pancake Layer Cake
 More than just a collection of Christina's greatest hits (as if that's not enough?), this book will be your guide for how to DIY cakes of any flavor combination you can dream up, whether you're a kitchen rookie or full-fledged baking perfectionist.
 ABOUT THE AUTHOR:
CHRISTINA TOSI is the two-time James Beard Award–winning chef, founder, and owner of Milk Bar. Known for baking outside the lines and turning dessert on its head, Christina has been a judge on Fox's MasterChef series and is featured on the hit Netflix docu-series Chef's Table: Pastry. She is also the author of the cookbooks Momofuku Milk Bar and Milk Bar Life.
# # #
ALL ABOUT CAKE
Christina Tosi
Clarkson Potter/Publishers
October 23, 2018
ISBN 978-0-451-49952-3 • $35.00 • Hardcover
Related Posts: