Press Releases
The Burn
Why Your Scale is Stuck and What to Eat About it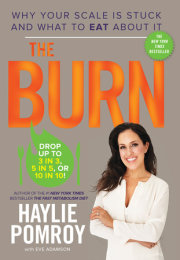 Haylie Pomroy
Imprint: Harmony Books
On sale: December 30, 2014
Price: $26.00
Pages: 304
ISBN: 9780804141055
Contact:
Tammy Blake
212-572-2542
tblake@penguinrandomhouse.com
Losing weight feels great, but what happens when your weight loss comes to a screeching halt just five or ten pounds shy of the finish line? If you have a big event coming up fast, like a wedding, a class reunion, or a vacation on the beach, and your body just isn't ready? You've only got a few pounds to lose to reach your dream weight, but they stick to you like glue and no matter what you do, your weight doesn't budge? If this sounds like you, then you need THE BURN by celebrity nutritionist and New York Times bestselling author, Haylie Pomroy (Harmony Books; $26.00; On-Sale January 1, 2015.)
Pomroy, who is a nutritional counselor and registered wellness consultant with over twenty years of clinical experience and the #1 New York Times bestselling author of The Fast Metabolism Diet, has created a food-based, supercharged weight-loss plan for those who have hit a plateau and need to microrepair metabolic function. Pomroy offers three different rapid-weight loss plans each targeting the reason you may be carrying that extra weight: inflammation, digestive dysfunction, or hormonal imbalance.
Readers choose which of the three plans and goals that suit them best—and learn how they can lose up to three, five, or ten pounds in as many days by using a combination of selected foods, herbs, teas, spices and food combinations that allow their bodies to burn through the barriers that are keeping them from their goals.
Choose from Pomroy's three, quick, intense, plateau-busting eating plans:
• I-Burn: targets the body's inflammatory reactions to food and flushes out toxins, producing prominent cheekbones and a radiant complexion in three days. When you do the I-Burn, you fight your body's reactivity to food.
• D-Burn: unlocks the body's digestion, which creates a flat belly and tighter hips and thighs in five days. When you do the D-Burn, you will unearth the issues with your body's digestion of food.
• H-Burn: aids in the proper synthesis of hormones, stabilizing the natural hormone regulatory system and allowing your body to release and incinerate fat in ten days. When you do the H-Burn, you will create harmony in your hormones to resculpt your body.
Food evokes changes in your body, and Pomroy knows how to supercharge those changes, strategically setting a metabolism flash fire so you can burn fat as quickly as possible with the food you eat. THE BURN includes eating and living plans for each of the three eating plans, as well as detailed grocery lists and daily menus and dozens of recipes to keep the process simple and easy to follow. Whichever plan you follow, you will make a profound and dramatic change in your appearance, health, and energy in just a few days by using food.
Getting the body you want is as simple as the foods you choose. THE BURN offers the plan you need to become your leanest, healthiest, sexiest you.
# # #
ABOUT THE AUTHOR: Celebrity nutritionist and #1 New York Times bestselling author, HAYLIE POMROY, is well known in Hollywood and in the medical community for her ability to effect rapid weight loss by using food to stimulate and jump-start metabolism. With clinics in Beverly Hills, Burbank, Irvine, and Fort Collins, Haylie's A-list celebrity clients include Jennifer Lopez, Robert Downey Jr., Reese Witherspoon, NFL athletes, and cast members of Glee. Haylie is a registered wellness consultant and certified holistic counselor.
Related Posts: