Press Releases
BROOKLYN ON FIRE by Lawrence H. Levy
New York's most daring lady detective, Mary Handley, returns to solve a triple murder in the action-packed sequel to SECOND STREET STATION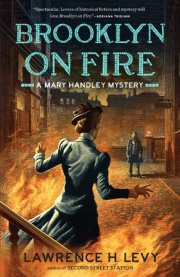 Lawrence H. Levy
Imprint: Broadway Books
On sale: January 19, 2016
Price: $14.00
Pages: 352
ISBN: 9780553418941
Contact:
Hannah Frail
212-572-2247
hfrail@penguinrandomhouse.com
Advance Praise for BROOKLYN ON FIRE
"Again Levy does a fine job of mixing historical characters and situations with his feisty, liberated detective." —Kirkus Reviews
"Engaging…[A] charming historical." —Publishers Weekly
"Book clubs rejoice! A new mystery series has arrived on bookshelves and it's spectacular. Lovers of historical fiction and mystery, humor, and social mores will love Brooklyn on Fire. Detective Mary Handley is a total original. Deft, wise, and ambitious, Handley has a moral center and a longing heart. Her world cannot confine her. Nineteenth-century New York City is painted with color and verve as Mr. Levy weaves history and colorful true characters with fictional elements that will have you reading long into the night. Brooklyn on Fire has Mary leaving her post with the New York Police Department and going out on her own. (Her office is operated out of a bookstore!) You will root for Mary every step of the way, as you will for every installment of this series to come. The only mystery here: Where's the next one, Mr. Levy? We're waiting!" —Adriana Trigiani, New York Times bestselling author of The Shoemaker's Wife
"Brooklyn on Fire is a well-told tale of greed, class warfare, and bigotry that keeps the reader turning pages to a most satisfying conclusion. A delightful heroine, whip-smart and believable, makes this a strong addition to what I hope will be a long-running series for Lawrence H. Levy." —G. M. Malliet, Agatha Award–winning author of the St. Just and Max Tudor crime novels
In his debut novel, Second Street Station, which was named one of the five best mysteries of 2015 by Library Journal, award-winning television writer Lawrence H. Levy introduced readers to Mary Handley, a brilliant and independent young woman from Brooklyn who defied societal expectations of the late nineteenth century to become the first female detective in New York. Now, after successfully closing her first case in conjunction with the police department, Mary ventures out on her own as a consulting detective. With the support of Brooklyn's top brass, her friend Lazlo (who owns the bookstore from which she now consults), and a dashing new suitor, Mary eagerly takes on a dangerous case in BROOKLYN ON FIRE (Broadway Books; January 19, 2016).
At the heart of Levy's story is a secret; one that several powerful people would kill for. There is a battle brewing between local politicians concerning New York's attempts to annex Brooklyn—but how far will they go to achieve their goals and protect their reputations? Proving that her wits and determination can carry her further than her mother ever imagined possible, Mary capably navigates New York's rough streets in a time of shifting politics and an uncertain future.
BROOKLYN ON FIRE opens with a new case for Mary. Hired by a young woman who claims her uncle was murdered, Mary begins an investigation into the suspicious circumstances of his death. However, she soon finds herself embroiled in a high-stakes investigation of the city's elite. As Mary crosses paths with larger-than-life New York celebrities of the day, including Andrew Carnegie, John D. Rockefeller, the Vanderbilts, and Brooklyn mayor Alfred Chaney, it becomes harder and harder to tell who is innocent and who might be guilty, especially after a series of fires and mysterious murders begin to plague the city. The clues lead Mary on a wild journey from New York City to North Carolina to uncover the truth, but she soon finds that her investigation has put her and her loved ones in grave danger. And when George Vanderbilt falls hard for Mary's strong-willed spirit and witty remarks, Mary enters into an exotic life of luxury, unearthing secrets of the rich and famous, from family scandals and false identities to a lifestyle she's afraid she could get used to.
With humor, charm, and intricate details of a bygone New York, BROOKLYN ON FIRE presents a world plunging into modernity through the eyes of our clever and beloved female sleuth.
About the Author
LAWRENCE H. LEVY is a highly regarded film and TV writer who is a Writers Guild Award winner and two-time Emmy nominee. He has written for various hit TV shows such as Seinfeld, Roseanne, and many more. He is the author of Second Street Station, the first novel featuring Mary Handley.
Related Posts: