Press Releases
Bone Broth: No Longer Just a Building Block for Soups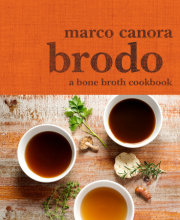 Marco Canora
Imprint: Clarkson Potter
On sale: 12/01/2015
Price: $20.00
Pages: 160
ISBN: 9780553459500
Contact:
Sean Boyles
212-782-9003
sboyles@penguinrandomhouse.com
Brodo:
A Bone Broth Cookbook
A pot of simmering bone broth has been a culinary fixture as long as there have been cookfires, but a new appreciation for broth's nuanced flavors and healing properties has made sipping a cup of it a daily ritual for many. Marco Canora, whose tiny broth dispensary, Brodo, is in large part responsible for this recent broth renaissance, knows firsthand how restorative bone broth can be; since incorporating broths into his diet he has experienced innumerable health benefits, from a more stable metabolism to greater resistance to colds and illness.
In Brodo: A Bone Broth Cookbook (Pam Krauss Books; On Sale: December 1st, 2015), Marco shares the recipes for his flavorful, nutritious broths and shows how to serve them year-round as well as incorporate them into recipes, a mini cleanse and a daily health practice.
Versatile, comforting and deeply satisfying, Marco's bone broths are perfect as the base of a broth bowl or to stir into a pot of risotto, as a more gentle, supportive alternative to the afternoon caffeine fix, and an immunity and health booster any time.
About the Author:
MARCO CANORA, acclaimed chef, restaurateur and cookbook author, is the chef/partner in New York City's Hearth, Fifty Paces, and Brodo. His elegantly rustic, Italian-inflected cooking has earned him critical acclaim and a James Beard Award nomination for Best Chef, New York and Outstanding Restaurant. He is the author of two cookbooks, Salt to Taste and Good Food Day. He lives in New York.
Related Posts: