Press Releases
Breathtaking new novel from Alison Love – THE GIRL FROM THE PARADISE BALLROOM
On sale April 19, 2016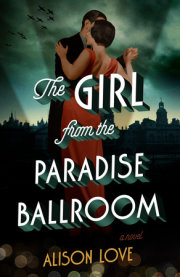 Alison Love
Imprint: Broadway Books
On sale: April 19, 2016
Price: $16.00
Pages: 336
ISBN: 9781101904510
Contact:
Hannah Frail
212-572-2247
hfrail@penguinrandomhouse.com
Advance Praise for THE GIRL FROM THE PARADISE BALLROOM
"A period romance built on several layers of love stories. . . . Love's research into the suffering of less-well-documented wartime figures and the messiness of the postwar period lends credible sadness to her narrative, underpinning both the central love story and other affairs of the heart. Dodging many predictabilities, the story reaches an appealing conclusion in 1947, with mature choices for its mingled Italian and British cast. In keeping with her name, Love delivers a satisfying romantic tale enhanced by its bittersweet aftertaste." —Kirkus Reviews
"Lusciously told . . . Truly engrossing . . . Throughout, Love effectively examines the clash of class and nationality while offering a distinctive historical portrait. Readers of love-touched historicals and those wanting to chew on big issues will both be satisfied." —Library Journal
Alison Love brings to life an exquisite and compelling cast of characters in her U.S. debut, THE GIRL FROM THE PARADISE BALLROOM (Broadway Books; April 19, 2016). Told with the passion of a tango and the elegance of a waltz, this story follows two families whose lives become inextricably linked as they struggle with the emotional turmoil of forbidden love, conflicting loyalties, and the most devastating war in human history.
The first meeting between Antonio and Olivia, in the seedy alley behind the Paradise Ballroom, is brief but electric. One a powerful singer, the other a captivating dancer, they both seize the attention of an entire room during a performance, though neither possesses the same confidence or authority within their daily lives. Months later, on the brink of World War II, their paths cross once again when the struggling Italian singer meets the wife of his wealthy new patron and instantly recognizes her as the fiery dancer from the Paradise Ballroom. Olivia fears Antonio will betray the secrets of her past, but they are slowly drawn together as outsiders in a glittering world to which they do not belong. Olivia's husband, kind yet controlling, attempts to mold a wild spirit into a suitable wife. With a domineering and pregnant wife, an aging and sickly father, and a flighty, fascist brother depending on him, Antonio is bound by a duty to his family. At last, however, with conflict looming across Europe, the attraction between them becomes impossible to resist. But when Italy declares war on Britain and bombs begin to fall from the London sky, bright and promising futures are liable to disappear in an instant.
Transporting readers between London, Australia, and Italy, THE GIRL FROM THE PARADISE BALLROOM highlights the distrust and paranoia that foreigners faced in wartime, as internments and deportations threatened to tear families apart. Gracefully told from numerous unique perspectives, Alison Love presents a heartfelt snapshot of how this tragic, global conflict affected people of all kinds on a much more intimate scale.
About the Author
ALISON LOVE is the author of the historical novels Mallingford and Serafina. Her short stories have appeared in numerous magazines and anthologies, and in 2013 her story "Sophie Stops the Clock" was shortlisted for the Bristol Short Story Prize. Love has also worked in the theater, television, and public relations.
Related Posts: