Press Releases
Now in paperback, BRAVING IT by James Campbell
A Father, a Daughter, and an Unforgettable Journey into the Alaskan Wild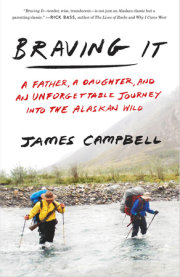 James Campbell
Imprint: Broadway Books
On sale: May 9, 2017
Price: $16.00
Pages: 384
ISBN: 9780307461254
Contact:
Alex Larned
212-572-2247
alarned@penguinrandomhouse.com
Accolades for Braving It
*Finalist for the Banff Mountain Book Competition—Adventure Travel*
*Honorable Mention for the Norbert Blei/August Derleth Nonfiction Book Award*
"One of the reasons we read books like Braving It [is] to experience what we may never have the particular courage to and share the terror and thrills of those who do. . . . And Aidan is exceptional, choosing to ditch friends and devices in order to rough it. It is invigorating to meet a young woman hellbent on self-sufficiency, to watch her twist the head off a just-shot caribou and bop around the campsite, bear bells jingling around her neck. . . . Mr. Campbell has set his daughter on the hero's journey and offered her the inviolable obligation of the parent: to show his child that she needs to save her own life and that she can."
—Wall Street Journal
"Campbell's prose captures both the difficulties and pleasures on offer in the extreme wild. . . . Parents who enjoy Campbell's adventures vicariously might find themselves contemplating their own family outing."
—Richmond Times-Dispatch
"James Campbell describes . . . trips to Alaska, where father and daughter faced off with grizzlies, battled clouds of mosquitos, capsized in a freezing river—and pushed the bond between them to its limits."
—National Geographic
"Braving It is a detailed portrayal of terrain so harsh it would give any seasoned outdoorsman pause, complete with grizzlies, brushes with hypothermia, and a growing bond that is honest, hard-earned, and touching."
—Men's Journal
"Campbell, through his descriptions and thoughtful reflection, brings to life the Arctic's great beauty, expanse and values as a wilderness and testing ground—a 'final frontier' for a certain kind of seeker. . . . Braving It is a smart, insightful book that should be read by fathers and daughters everywhere—and by anyone who looks to wild country as 'part of the geography of hope.' "
—Alaska Dispatch News
Alaska's Arctic National Wildlife Refuge—home to only a handful of people—is a stark and lonely place. So when James Campbell's cousin Heimo Korth (featured on The Last Alaskans on Discovery Channel and in Campbell's book The Final Frontiersman, which New York Times bestselling author Bill Bryson called "inspiring, unnerving, and never less than wholly absorbing") asked him to spend a summer building a cabin on the remote Alaskan tundra, Campbell hesitated to extend the invitation to his fifteen-year-old daughter, Aidan. She was a good student and athlete, but he felt she lacked the life skills she would need once she left home. The trip would not be easy: Heimo and his wife, Edna, a Siberian Yupik Eskimo, spend ten months of every year in the refuge, where they survive on their skills as hunter-trapper-gatherers, eighty miles from the nearest neighbor and three hundred from the closest hospital. There would be twelve-hour days, mosquitoes, bears, and only an ice-cold creek to wash in. But, as Campbell reminded his daughter, there would also be beauty: rivers with crystal-clear water, rugged mountains, and meadows filled with blueberries. Aidan decided she was up for the challenge and for the time with her father, and so began a unique father-daughter adventure.
Now in paperback, BRAVING IT: A Father, a Daughter, and an Unforgettable Journey into the Alaskan Wild (Broadway Books; on sale May 9, 2017) chronicles the three transformative trips that Campbell and Aidan made to Alaska. It is an ode to America's disappearing wilderness and a profound meditation on the role of nature in a child's development. Fans of nature writers like John McPhee, Wendell Berry, Annie Dillard, Edward Hoagland, and Barry Lopez, as well as readers of adventure narratives and memoirs such as Into the Wild, The Last American Man, Wild, H Is for Hawk, and Still Points North, will be drawn to Campbell's beautiful descriptions of Alaska's wilderness.
At first Campbell hovered over Aidan as she fished for Arctic grayling in grizzly country, limbed and peeled logs with an axe and drawknife, and tried to impress Heimo. The going was slow. But after several weeks, Campbell started noticing a change in Aidan—she was becoming more self-sufficient, confident, and capable, so much so that they returned a few months later to help Heimo secure food for the winter. With windchills dipping to 50 degrees below zero, Aidan and Edna ventured out each day to hunt, giving Aidan a hands-on lesson in skinning, butchering, and handling a gun—even sticking her hands inside the warm carcass of a caribou to thaw out her frozen fingers. While Aidan missed the comforts of home and the feeling of being connected to friends and family, she began to see that disconnecting from technology and truly immersing herself in nature inspired her in a way she never could have imagined.
The following spring, Campbell decided to make one last trip to Alaska with Aidan. In Eskimo culture, men do not distinguish between sons and daughters; they believe that girls deserve a rite of passage as well, and they often take their daughters on hunting trips before they leave their villages. This was to be Campbell's parting gift to Aidan, their last journey together before she left home for college. They backpacked over Alaska's northernmost mountains, the Brooks Range, to the headwaters of the mighty Hulahula River, and paddled their folding canoe 110 miles to the Arctic Ocean. The journey took them through one of the planet's most remote places—a land of wolves, Dall sheep, golden eagles, and bears. It was a thrilling, arduous, and dangerous trip, one that tested them—and their relationship—as never before.
Poignant and humorous, BRAVING IT is a profoundly personal and philosophical exploration of life's fundamental questions. The book also addresses universal themes such as the importance of nature as a basic human need in an increasingly disconnected and artificial world; the meaning of home; the father-daughter bond; the search for ways to live more fully; how we, as parents, can guide our adolescents with a light but steady hand; and the pain—and joy—of letting go.
                                                                        * * * * *
About the Author:
JAMES CAMPBELL is the author of The Final Frontiersman, The Ghost Mountain Boys, and Braving It. He has written for Outside magazine, National Geographic Adventure, Men's Journal, Audubon, and many other publications.
Related Posts: