Press Releases
Braving It by James Campbell
A Father, a Daughter, and an Unforgettable Journey into the Alaskan Wild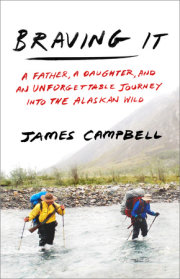 James Campbell
Imprint: Crown
On sale: 05/10/2016
Price: $27.00
Pages: 384
ISBN: 9780307461247
Contact:
Rebecca Welbourn
212-782-9634
rwelbourn@penguinrandomhouse.com
Alaska's Arctic National Wildlife Refuge—home to only a handful of people—is a stark and lonely place. So when James Campbell's cousin Heimo Korth (featured on The Last Alaskans and in Campbell's book The Final Frontiersman, which New York Times bestselling author Bill Bryson called "inspiring, unnerving, and never less than wholly absorbing") asked him to spend a summer building a cabin on the remote Alaskan tundra, Campbell hesitated to extend the invitation to his fifteen-year-old daughter, Aidan. She was a good student and athlete, but he felt she lacked the life skills she would need once she left home. The trip would not be easy: Heimo and his wife, Edna, a Siberian Yupik Eskimo, spend ten months of every year in the refuge, where they survive on their skills as hunter-trapper-gatherers, eighty miles from the nearest neighbor and three hundred from the closest hospital. There would be twelve-hour days, mosquitoes, bears, and only an ice-cold creek to wash in. But, as Campbell reminded his daughter, there would also be beauty: rivers with crystal-clear water, rugged mountains, and meadows filled with blueberries. Aidan decided she was up for the challenge and for the time with her father, and so began a unique father-daughter adventure. BRAVING IT: A Father, a Daughter, and an Unforgettable Journey into the Alaskan Wild (Crown, on-sale May 10, 2016) chronicles the three transformative trips that Campbell and Aidan made to Alaska. It is an ode to America's disappearing wilderness and a profound meditation on the role of nature in a child's development. Fans of nature writers like John McPhee, Wendell Berry, Annie Dillard, Edward Hoagland, and Barry Lopez, as well as readers of adventure narratives and memoirs such as Into the Wild, The Last American Man, Wild, H Is for Hawk, and Still Points North will be drawn to Campbell's beautiful descriptions of Alaska's wilderness.
At first Campbell hovered over Aidan as she fished for Arctic grayling in grizzly country, limbed and peeled logs with an axe and drawknife, and tried to impress Heimo. The going is slow at first. But after several weeks, Campbell started noticing a change in Aidan—she was becoming more self-sufficient, confident, and capable, so much so that they returned a few months later to help Heimo secure food for the winter. With windchills dipping to 50 degrees below zero, Aidan and Edna ventured out each day to hunt, giving Aidan a hands-on lesson in skinning, butchering, and handling a gun—even sticking her hands inside the warm carcass of a caribou to thaw out her frozen fingers. While she missed the comforts of home and the feeling of being connected to friends and family, she began to see that disconnecting from technology and truly immersing herself in nature inspired her in a way she never could have imagined. The following spring, Campbell decided to make one last trip to Alaska with Aidan. In Eskimo culture, men do not distinguish between sons and daughters; they believe that girls deserve a rite of passage as well, and they often take their daughters on hunting trips before they leave their villages. This was to be Campbell's parting gift to Aidan, their last journey together before she left home for college. So they backpacked over Alaska's northernmost mountains, the Brooks Range, to the headwaters of the mighty Hulahula River, and paddled their folding canoe 110 miles to the Arctic Ocean. The journey took them through one of the planet's most remote places, a land of wolves, Dall sheep, golden eagles, and bears. It was a thrilling, arduous, and dangerous trip, one that tested them—and their relationship—as never before. Poignant and humorous, BRAVING IT is a profoundly personal and philosophical exploration of life's fundamental questions. The book also addresses universal themes such as the importance of nature as a basic human need in an increasingly disconnected and artificial world; the meaning of home; the father-daughter bond; the search for ways to live more fully; how we, as parents, can guide our adolescents with a light but steady hand; and the pain—and joy—of letting go.
 About the Author: JAMES CAMPBELL is the author of The Final Frontiersman, The Ghost Mountain Boys, and Braving It. He has written for Outside magazine, National Geographic Adventure, Men's Journal, Audubon, and many other publications.
__________________________________________________________________________________________________________________________________________
Praise for Braving It (on sale May 10, 2016)
"With humor and honesty, Campbell brings readers along for the adventure, which is full of swarms of hungry mosquitoes, the fear of grizzly bears, and the push-pull relationship between a teenage girl and her father. . . . Campbell expertly blends facts on the flora, fauna, and general life in the Alaskan bush with his reflections on being middle-aged, with many adventurous years behind him, as opposed to his daughter, whose quest for adventure has only just begun. Informative, humorous, and full of a love of nature."
—Kirkus Reviews

"Some parents will doubtless think the adventure James Campbell took his daughter on was irresponsibly dangerous or just plain crazy. But as a father myself, I'm in envious awe of the bold decision he made and the clarity with which he made it. As Braving It poignantly demonstrates, there is no better teacher than deep wilderness. Here is the essence of good writing—and good parenting, too."
—Hampton Sides, author of In the Kingdom of Ice
"Braving It, the book, is a metaphor for the wilderness—the call of the wild—that James Campbell evokes in this masterfully told story. Every time I set the book down, I pondered the lessons learned, and couldn't wait for my next sojourn into its pages. When it ended, I longed for the adventure to continue and pined for the beauty of Alaska. So I picked it up and read it again, savoring every page."
—Eric Blehm, author of The Last Season, Fearless, and Legend
"Any of us who've watched daughters grow up to be strong and capable in the backcountry will delight in this book—it's a wonderful new world in many ways!"
—Bill McKibben, author of The End of Nature and Wandering Home
"In this wonderful book, James Campbell and his teenage daughter set off on a great adventure to one of the most beautiful, and often perilous, places on earth—the Arctic wilderness of Alaska. They face many challenges—whitewater rapids, grizzly bears, bone-numbing cold—but none as daunting for Campbell as guiding his daughter across the great divide between childhood and maturity. Set against a primal landscape of mountains and fast-flowing rivers, Braving It is as simple and powerful as any fairy tale."
—John Hildebrand, author of Reading the River and The Heart of Things
"Braving It—tender, wise, translucent—is not just an Alaskan classic, but a parenting classic. I read it with great fondness, hunger, and a deep satisfaction."
—Rick Bass, author of The Lives of Rocks and Why I Came West
"If your idea of a good time is hordes of mosquitoes and wind chills of 50 below, you are not your average dad. And if you invite your teenage daughter to enjoy these with you and she says yes, she may not be your average daughter. This is a great story of what it means to love, trust, and test your kids."
—Lenore Skenazy, author of Free-Range Kids 
"As a father of daughters and lover of adventure, I found Braving It to be spot-on—riveting, profound, open-eyed, and deeply touching. Campbell's struggle to understand and measure up to the stark and stunning Alaskan wilderness and, more important, to his teenage daughter—to find his place in the lives of both—becomes our struggle, too. A must-read for every striving parent and every teen striving to understand his or her parents." —Dean King, author of Skeletons on the Zahara and The Feud
"Braving It is a book full of hope. At a time when we are concerned with ravages upon the environment, this story explores the wonder and unspoiled beauty of the Alaskan wild. And at a time when our youth are consumed with technology, social media, and a sense of entitlement, we read about a teenage girl who not only chooses to venture into the wilderness, but relishes the experience. This book gives me hope for our landscape and our youth."
—Larry Beck, San Diego State University professor and author of Moving Beyond Treeline
"Rarely has a book captured so well the unknown wilderness of parenting, of what it is to be a teenager and what it is for a father to learn to trust. Braving It is also a kind of guide to stepping outside one's comfort zone. A must-read for anyone trying to understand the father-daughter bond and anyone who loves wildness."
—Melissa Arnot, mountaineer
"Braving It is part call to adventure, part coming-of-age story, and part celebration of family. A thoroughly engaging and thought-provoking read."
—Daniel L. Dustin, professor of Outdoor Recreation, University of Utah
Related Posts:
You Might Also Like