Press Releases
This Is Your Brain on Sports by Jon Wertheim & Sam Sommers
The Science of Underdogs, the Value of Rivalry, and What We Can Learn from the T-Shirt Cannon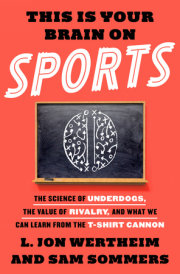 L. Jon Wertheim & Sam Sommers
Imprint: Crown Archetype
On sale: 2/2/16
Price: $26.00
Pages: 288
ISBN: 9780553447408
Contact:
Ellen Folan
212-782-8944
efolan@penguinrandomhouse.com
The Science of Underdogs, the Value of Rivalry and What We Can Learn
from the T-Shirt Cannon
By L. Jon Wertheim and Sam Sommers
---
"A strong case for the lunacy of sports as rooted in basic human neuroscience and cognitive tendency….With a light, anecdotal touch that belies its governance by hard science, Wertheim and Sommers throw considerable light on 'all the batshit craziness that courses through the sports ecosystem….' If sports bring out the kooky, spooky, and creepy in us, Wertheim and Sommers give us a chance to understand ourselves and perhaps get a grip before we totally lose it."
— Kirkus Reviews
---
There seems to be a lot of batshit craziness that courses through the sports world, on the field and in the stands. Athletes choke when the game's on the line, betraying years of training and allowing their minds and bodies to desert them when the stakes are highest. Coaches routinely make decisions that don't maximize their chances of winning. Fans wear "lucky" t-shirts when their teams are playing, convinced their failure to do so will trigger defeat, and they hurl themselves over banners to catch a free t-shirt propelled by an air cannon that they wouldn't pay a dime for on the street.
However, it turns out, so often the appearance of lunacy in sports isn't lunacy at all but rather something routed in basic human psychology, neuroscience, and cognitive tendency. In THIS IS YOUR BRAIN ON SPORTS: The Science of Underdogs, the Value of Rivalry and What We Can Learn from the T-Shirt Cannon (Crown Archetype; February 2016), Sports Illustrated executive editor and bestselling author L. Jon Wertheim teams up with Tufts psychologist Sam Sommers to take readers on a wild ride into the inner world of sports and what it can teach us about human nature. Through the prism of behavioral economics, neuroscience, and psychology, they reveal the hidden influences and surprising cues that inspire and derail us on the fields of play and by extension, in corporate board rooms, office settings, and our daily lives.
Wertheim and Sommers usher us from professional football to the NBA to Grand Slam tennis, from the psychology of athletes self-handicapping their performance in the boxing ring or the World Series, to an explanation of why even the glimpse of a finish line can lift us beyond ordinary physical limits. They also provide surprising answers to confounding sports questions like:
– Why Tom Brady and other starting NFL quarterbacks all seem to look like fashion models.
– Why fans of teams like the Cubs, Mets (until this year!), and any franchise from Cleveland love rooting for a loser.
– Why the best players make the worst coaches.
– Why hockey goons (and fans) would rather fight at home than on the road.
– Why we can't stop screaming for that arena t-shirt cannon to be fired in our direction.
Illuminating and entertaining, THIS IS YOUR BRAIN ON SPORTS celebrates the quirkiness of sport while revealing something deeper about who we are, what we care about, and the forces that shape our behavior.
#     #     #
ABOUT THE AUTHORS:
Jon Wertheimis the executive editor ofSports Illustrated. A sports journalist with a passion for psychology and economics, he is the author of such New York Times bestsellers as Scorecasting (written with Toby Moskowitz) and You Can't Make This Up (written with Al Michaels). A huge sports fan, Sam Sommers is an experimental psychologist at Tufts University who studies the psychology of everyday life. He is the author of the critically acclaimed book Situations Matter.

For more information or to schedule your interview with the authors, please contact:
Tammy Blake at 212/572-2542 or tblake@penguinrandomhouse.com
Ellen Folan at 212/782-8944 or  efolan@penguinrandomhouse.com
Related Posts: