Press Releases
Brady vs. Manning
The Untold Story of the rivalry that transformed the NFL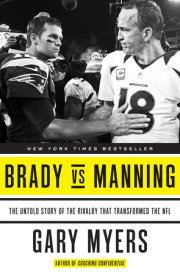 Gary Myers
Imprint: Crown Archetype
On sale: September 22, 2015
Price: $26.00
Pages: 272
ISBN: 9780804139373
Contact:
Ellen Folan
212-782-8944
efolan@penguinrandomhouse.com
"Tom Brady and Peyton Manning. It's this generation's football version of Mantle vs. Mays, or Wilt vs. Russell. Everyone has an opinion, but some count more than others. Gary Myers has decades of experience covering and reporting on the NFL. He has long been one of the sport's most respected and credible writers. His long-standing access to both Hall of Fame quarterbacks, plus countless sources who competed with and against them, brings exceptional insight to Myers's take on one of football's most compelling and ongoing debates."
—Bob Costas, NBC Sports
"I feel like I've spent a third of my professional life covering Manning and Brady. I thought I knew everything there was to know about each. Gary Myers took me to school not only on one of the great sporting rivalries of our lives but on what makes two important sportsmen tick. This is Gary's best work."
—Peter King, editor in chief, Sports Illustrated's The MMQB
"Get behind the scenes with two of the NFL's all-time greatest players in one ultra-compelling story. Gary Myers tackles Tom Brady and Peyton Manning in a way that very few defenders ever have. Brady and Manning always have been must-watch; here they are must-read."
—Adam Schefter, ESPN NFL Insider

"Peyton and Tom are to today's NFL what Magic Johnson and Larry Bird represented in their NBA careers. Both duos are known as champions, leaders, and fierce competitors. Given how their time in the spotlight corresponds with the league's incredible popularity surge, the story of their connection is one that needs to be told. Gary's decades of covering the NFL and his unique relationships with the biggest names in the game make him the perfect person to tell the intertwined story of these NFL legends."
—Mike Tirico, ESPN's Monday Night Football
Tom Brady and Peyton Manning are arguably the two greatest quarterbacks of all time. They are living legends who have come to embody the quarterback position and shape an entire generation of the NFL. They have also been fierce rivals every step of the way, their many epic duels ranking among the best and most exciting games ever played and fundamentally shaping the lives and careers of both men.
But for all their shared brilliance, they are a study in contrasts. Tom is the underdog turned ultimate winner, an unheralded draft pick who went on to win a miraculous Super Bowl and become the leader of one of the NFL's greatest dynasties. He is as firmly associated with big-game brilliance as anyone who has ever played. Meanwhile, Peyton was born into NFL royalty and a mountain of outsize expectations, yet somehow lived up to and exceeded all the hype, claiming virtually every passing record along his path to football immortality.
The contrast in greatness—between the overachieving underdog and the crown prince of football, between postseason brilliance and statistical dominance—has served as an endless source of fascination for fans and media, and over the years as the two players have faced off again and again in classic games, the argument has only intensified.
But until now, there has never been a definitive treatment of the debate that tells the full story. What do Tom and Peyton actually think of each other? What do their coaches think of them? What about teammates and opposing players? What are they like behind closed doors and in the locker room, and how has that influenced their careers? How did their vastly different upbringings shape them, and how has each handled the injuries, setbacks, and defeats?
With unprecedented access and insight, veteran NFL correspondent Gary Myers examines this subject from every angle, drawing on a huge number of exclusive interviews with both superstars, their coaches, their families, and those who have played with them and against them. BRADY VS MANNING: The Untold Story of the Rivalry That Transformed the NFL (Crown Archetype; September 22, 2015) is a remarkable collection of the most entertaining and revealing stories ever told about Peyton and Tom, from how they developed their vastly different leadership styles to the unlikely friendship they've built over the years, Myers delivers new stories and insight from some of the biggest names in the game, including:
• Manning and Brady on their intense rivalry and their little-known close friendship
• Former Michigan coach Lloyd Carr on why Brady was never the undisputed starter during his five years at Michigan
• Tom Brady Sr. and Archie Manning on the special bond their sons share
• Who's the ultimate locker-room prankster: Brady or Manning? Former teammates—and victims—weigh in
• Dan Koppen and Wes Welker on what it's like to play with both future Hall of Famers
• Current and former greats—Richard Sherman, Joe Montana, Michael Strahan, Bill Polian, Rodney Harrison—on who's the best of the best
• New York Giants players on the special motivation Peyton gave them to stop Brady—and protect Peyton's record in 2007
• Rex Ryan on what it's like to prepare his defenses against two of the greatest in the game—and whom he fears
• Patriots legends like Tedy Bruschi on what the Pats really thought of Peyton—and the moment he finally earned their respect
• Jim Irsay and Robert Kraft on their deep, personal bonds with their respective quarterbacks—and how Irsay reacted when it became clear Peyton was leaving
Wildly entertaining and deeply thought-provoking, BRADY VS MANNING is essential reading for anyone who truly wants to understand these extraordinary players.
# # #
About the Author:
GARY MYERS has covered the NFL for more than three decades. He is currently a football columnist for the New York Daily News. Myers is the author of The Catch and Coaching Confidential.
Related Posts:
You Might Also Like