Press Releases
Boys Among Men by Jonathan Abrams
The never-before told story of the prep-to-pro generation: basketball players who made the jump directly from high school to the NBA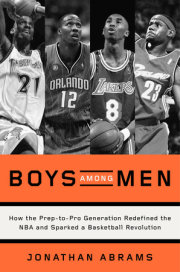 Jonathan Abrams
Imprint: Crown Archetype
On sale: March 15, 2016
Price: $28.00
Pages: 336
ISBN: 9780804139250
Contact:
Ellen Folan
212-782-8944
efolan@penguinrandomhouse.com
"Abrams weaves a compelling tale about a transformational era in the NBA that also speaks to the sometimes-desperate pursuit of sporting stardom."
—Kirkus Reviews (starred review)
"In this excellent effort, Abrams, the gifted hoops writer late of Grantland, examines this controversial phenomenon from every angle."
—Publishers Weekly
"A riveting read that cements Abrams's reputation as one of the world's best basketball writers."
—Bill Simmons, #1 New York Times bestselling author of The Book of Basketball and Now I Can Die in Peace
"Abrams offers a fascinating and unsettling account of what happened to professional basketball when teenagers made their way into a man's game."
—Malcolm Gladwell
"Boys Among Men will stand as the definitive dissection of an oddly brief, perpetually influential period in the history of NBA labor relations."
—Chuck Klosterman, New York Times bestselling author of I Wear the Black Hat and Sex, Drugs, and Cocoa Puffs
"Abrams has deftly woven together the stories of the prep-to-pro generation, creating something that informs but also entertains, that teaches but never preaches. It is an indispensable book for anyone who cares about basketball."
—George Dohrmann, Pulitzer Prize–winning author of Play Their Hearts Out
"The drama of the 1996 NBA draft remains somewhat of a mystery—Huh? Kobe went thirteenth?—and Abrams attacks it like a mystery writer, pulling back the layers on this compelling story and many others. There was much I learned from this book, which covers not only the superstar 'kids' like Bryant and Garnett, but also the compelling cautionary tales."
—Jack McCallum, New York Times bestselling author of Dream Team and Seven Seconds or Less
When Kevin Garnett shocked the world by announcing he would not be attending college but would enter the NBA draft straight out of high school, he blazed a trail for a generation of teenage basketball stars to jump right into the pros. That trend would continue until the NBA instituted an age minimum in 2005, requiring that all draft-eligible players be at least one year removed from high school. Over that decade-plus, the list of players who made the difficult leap includes some of the most celebrated talents of the modern era—Garnett, Kobe Bryant, LeBron James, Dwight Howard, and Tracy McGrady. It also includes notable busts, players like Korleone Young, who either physically or mentally proved unable to handle pressures of the NBA at such a tender age.
But for better or for worse, the face of the NBA was forever changed by the prep-to-pro generation. And now, as some of those stars find themselves on the brink of retirement, award-winning journalist Jonathan Abrams has written the definitive account of this unique chapter in professional sports with BOYS AMONG MEN: How the Prep-to-Pro Generation Redefined the NBA and Sparked a Basketball Revolution (Crown Archetype, March 15,  2016).
Drawing on Abrams's impressive access to the key players, coaches, and movers and shakers from that time, BOYS AMONG MEN is packed with rare insights and never-before-published details about this period in NBA history. As some of the prep-to-pro generation's biggest names approach the twilight of their careers, readers will be able to relive the iconic and memorable exploits of their favorite players while exploring the many sides of the seemingly unending debate regarding the "right" age to make the leap from young high school or college phenom to the pros. Compelling and masterfully written, BOYS AMONG MEN is a must-read for any basketball fan.
Related Posts:
You Might Also Like