Press Releases
Boy Meets Depression by Kevin Breel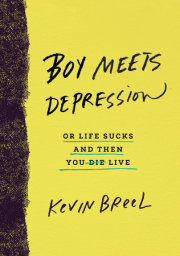 Kevin Breel
Imprint: Harmony Books
On sale: September 15, 2015
Price: $20.00
Pages: 224
ISBN: 9780553418378
Contact:
Lauren Cook
212-782-9486
lcook@penguinrandomhouse.com
"Kevin Breel has single-handedly demystified depression through his shockingly honest, firsthand account of the struggle. This is an absolute must-read."
—Josh Shipp, "The Teen Whisperer," TV personality and author
Kevin Breel became a viral phenomenon three years ago when at the age of nineteen, he shared his deepest secret: he was leading a double life. On the outside Kevin was a funny teenager on the basketball team whom everyone liked. But on the inside, the pain and shame of depression were killing him. After years of silently battling, he shared his story in a TED talk, Confessions of a Depressed Comic. It struck a chord and garnered millions of views by people who were enthralled with his brutal honesty and inspired by his willingness to speak about a topic that most are too afraid to discuss.
In his new memoir, BOY MEETS DEPRESSION: Or Life Sucks and Then You Die  Live, Breel sheds much needed light into the dark corners of what it is like to be young, male, and depressed in a culture that has no place for that. In a society that would have all our children be "perfect" and pressures them with social media images that show the surface, but not the reality of living.
After years of keeping his struggle to himself, the night he hit bottom and crafted a suicide note is what ultimately saved his life. It wasn't until he was writing his final good-bye that he realized he had never told anyone what he was dealing with; his family and friends had no idea that behind the mask of cool and in control that he was suffering from intense depression.
As young men, and increasingly young women, often keep their quirkiness and darker emotions to themselves, Breel's insights and experiences offer readers the rare chance to get inside the mind of a young man on the brink of tragedy. His mission is to take the stigma out of depression and through his story speak to all teenagers and young adults who are suffering to let them know that they are not alone and that it's okay to ask for help.
In BOY MEETS DEPRESSION, through the lens of his own near suicide, Breel shows other sufferers that the real miracle of life isn't found in perfection, it's found in our ability to heal and accept the dark parts of ourselves.
###
ABOUT THE AUTHOR:  KEVIN BREEL is a twenty-one-year-old writer, stand-up comic, and activist for mental health. His passionate TEDx talk entitled Confessions of a Depressed Comic went instantly viral online, amassing more than 3,500,000 viewers and being featured on more than two hundred media outlets. Mashable called it "one of the moments that brought the world together" and the Huffington Post said the talk was "simply amazing." As a comedian, he's performed at venues all across the globe, including the House of Blues, Rogers Arena, and the historic LA Coliseum. As a mental health activist, he's the national spokesperson for the Bell Let's Talk campaign and has been a guest speaker at more than one hundred college campuses. Currently, Kevin is on a yearlong tour that stretches into more than six countries. For more information, visit www.KevinBreel.com.
Related Posts: