Press Releases
Discover the art of barbecuing with the man who taught America how to grill in Bobby Flay's Barbecue Addiction
Bobby Flay's Barbecue Addiction by Bobby Flay with Stephanie Banyas and Sally Jackson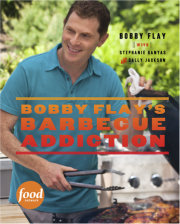 Bobby Flay with Stephanie Banyas and Sally Jackson
Imprint: Clarkson Potter/Publishers
On sale: April 23, 2013
Price: $35.00
Pages: 288 pages
ISBN: 9780307461391
Contact:
Anna Mintz
212-572-6186
amintz@randomhouse.com
Long known and beloved for his skills at the grill, Food Network star Bobby Flay turns down the flame to cook low and slow with his Food Network cooking show Bobby Flay's Barbecue Addiction and in his new cookbook, BOBBY FLAY'S BARBECUE ADDICTION.  This book presents Bobby's secrets for cooking anything and everything on the grill—from quickly grilled steaks and seafood to smoky barbecued ribs and fork-tender pulled pork.
Embracing every cooker out there, from traditional charcoal and convenient gas grills to smokers and the big ceramic eggs that have recently become so popular, Bobby starts by sharing his tips for working with any kind of setup, from choosing a cooker to tending the fire. Then it's on to the boldly flavored recipes that are his signature, which, for the very first time, include smoky low-and-slow barbecue favorites.
Recipes include:
COCKTAILS: Blackberry Mojitos, California White Peach and Sparkling Wine Cocktail, Pisco Sour Sangria
STARTERS, SALADS, AND SIDES: Fire-Roasted Corn with Mango-Habanero-Cilantro Butter; Grilled Mango with Lime, Salt, and Ancho Powder; Honey-Rum Baked Black Beans with Burnt Ends
POULTRY: Curry-Rubbed Smoked Chicken Thighs with Sorghum-Chile Glaze; Smoked Jerk Chicken Wings with Spicy Honey-Tamarind Glaze; Cajun Brined Turkey, Two Ways
PORK: Slow-Smoked Pork Shoulder with Napa Slaw and Queso Fresco, Italian Sausage Hoagies with Caprese Relish, Grilled Pork Loin with Agrodolce Peaches
BEEF AND LAMB: Smoked Prime Rib with Red Wine Steak Sauce, Blackened Burgers with Pepper Jack and Rémoulade, Cold-Smoked Lamb Loin and Black Bean Tacos with Watercress Vinaigrette
FISH AND SHELLFISH: Hot Smoked Salmon with Apple, Dried Cherries, Hazelnuts, and Greens; Whole Dorade with Crabmeat Dressing and Creamy Lemon Vinaigrette; Crawfish Cooked in a Grill Basket with Tabasco-Tarragon Butter
With tips on everything from selecting the right cooker to hosting the perfect backyard barbecue, as well as 100 color photos and 150 recipes, BOBBY FLAY'S BARBECUE ADDICTION is sure to become a classic for the cookbook collection of Bobby's avid fans and barbecue enthusiasts.
ABOUT THE AUTHOR:
BOBBY FLAY, a New York Times bestselling author, is the chef-owner of six fine-dining restaurants, including Mesa Grill, Bar Americain, and Bobby Flay Steak, and numerous Bobby's Burger Palaces. He is the host of many popular cooking shows on Food Network, from the Emmy-winning Bobby Flay's Barbecue Addiction, Grill It! with Bobby Flay, and Boy Meets Grill to the Iron Chef America series, Throwdown! with Bobby Flay, and Food Network Star.  This is his twelfth book.  His website is www.BobbyFlay.com. 
Related Posts:
You Might Also Like