Press Releases
Bloggers Christina Lane and Diane Gilleland bridge modern and traditional quilting through 20 beautiful and irresistible projects
Quilting Happiness: Projects, Inspiration & Ideas to Making Quilting More Joyful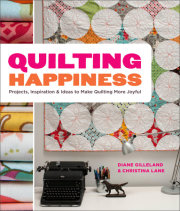 Christina Lane and Diane Gilleland
Imprint: Potter Craft
On sale: August 27, 2013
Price: $22.99
Pages: 176
ISBN: 9780770434090
Contact:
Kim Small
212-572-6067
ksmall@randomhouse.com
From a bright improvisational quilt to a patchwork piece using fabric scraps, QUILTING HAPPINESS: Projects, Inspiration & Ideas to Make Quilting More Joyful (Potter Craft, on sale August 27, 2013, $22.99) by bloggers Christina Lane and Diane Gilleland bridges modern and traditional quilting through 20 beautiful and irresistible projects.
QUILTING HAPPINESS is an inspiring collection guaranteed to encourage quilters to enhance and expand their quilting experiences in new and innovative directions. Each step-by-step quilt project is accompanied by a wealth of valuable advice, creative exercises, profiles, and fun sidebar elements. QUILTING HAPPINESS will motivate all levels of quilters to get more from their craft. Whether you quilt in order to play with patterns, to make art, to craft for others, or to join a growing community, you will discover more meaningful reasons to love quilting.
The projects are interspersed with creative tools such as journaling prompts, stories from the quilting community, and interesting resources to help the reader deepen his or her own connection to the quilting experience. Making quilts is truly its own reward, but the process and results become so much more meaningful when crafters delve into the underpinnings of their unique creativity, and quilting's heritage as a social craft.
Each chapter looks at quilting and happiness from a different angle: connecting with inspiration, quilting for yourself, making quilts for other people, and getting involved in the online and offline quilting community. For anyone who loves to quilt, QUILTING HAPPINESS is truly a crafter's delight.
#    #    #
About the Authors:
CHRISTINA LANE has been sewing since she was a child and has been longarm quilting for seven years. She has been a guest speaker at the Portland Modern Quilt Guild and featured on websites such as WhipUp.net and FatQuarterly.com. Her work has appeared in Lunch Bags!, Arftul Blogging, and Quilts & More magazine. Christina blogs at TheSometimesCrafter.blogspot.com and makes her home in Ridgefield, Washington.
DIANE GILLELAND is a craft writer and designer whose website, CraftyPod.com, offers podcasts and videos to a worldwide audience of more than 40,000. Diane's work has appeared in CRAFT, CraftStylish, Woman's Day, Sew News, and The Oregonian, and on numerous websites. She is the author of Kanzashi in Bloom. She makes her home in Portland, Oregon.
Related Posts: