Press Releases
BETTER THAN BEFORE: MASTERING THE HABITS OF OUR EVERYDAY LIVES by Gretchen Rubin
From Gretchen Rubin, #1 bestselling author of The Happiness Project and Happier at Home, comes a groundbreaking new book that will change your perspective on habits forever.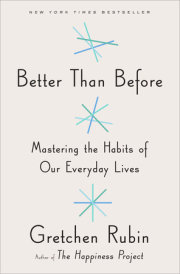 Gretchen Rubin
Imprint: Crown Publishers
On sale: March 17, 2015
Price: $26.00
Pages: 320
ISBN: 9780385348614
Contact:
Sarah Breivogel
212-572-2722
sbreivogel@penguinrandomhouse.com
Praise for BETTER THAN BEFORE:
"We are totally comfortable calling Gretchen Rubin's new book, Better Than Before: Mastering the Habits of Our Everyday Lives, life-changing."—Better Homes & Gardens
"If anyone can help us stop procrastinating, start exercising or get organized, it's Gretchen Rubin. The happiness guru takes a sledgehammer to old-fashioned notions about change."—Parade
"Do you have a bad habit you're trying to shake, or a good one you wish you could cultivate? Gretchen Rubin is one of the most charming and erudite authors of her generation. Here, she uses her gifts to help you eat right, sleep well, stop procrastinating, and start enjoying all that life has to offer."—Susan Cain, New York Times bestselling author of Quiet
"Gretchen Rubin combines deep research and observations from her own life to explain how habits emerge and—more important—how they can change. It's indispensable for anyone hoping to overhaul how they (almost unthinkingly) behave."—Charles Duhigg, New York Times bestselling author of The Power of Habit
"Filled with insights about our patterns of behavior, Better Than Before addresses one of life's big and timeless questions: how can we transform ourselves? In a way that's thought-provoking, surprising, and often funny, Gretchen Rubin provides us with the tools to build a life that truly reflects our goals and values."—Arianna Huffington, founder of the Huffington Post and New York Times bestselling author of Thrive
"Is there a habit in your life you'd like to change? If so, here's your first step: Read this book. It's loaded with practical, everyday tips and techniques that will guide you to success."—Dan Heath, New York Times bestselling coauthor of Made to Stick, Switch, and Decisive
"Almost everyone wants to be 'better'—slimmer, smarter, better looking, more interesting, more productive—and we want to know we're improving, we want the reinforcing evidence. Gretchen Rubin's new masterpiece, Better Than Before, shows us how. She shows how to turn vicious cycles into virtuous cycles and how to turn ruts into roads less traveled. The key is in starting and supporting the habits that will turn us into who we want to be. Unlike other books on habits, Rubin's book gives us the specific tools and a blueprint for getting back on track—the fast track."—Brian Wansink, Ph.D., New York Times bestselling author of Slim by Design and Mindless Eating
"Gretchen Rubin's superpower is curiosity. Luckily for us, she's turned her passionate inquiry to the topic of making and mastering habits. Weaving together research, unforgettable examples, and her brilliant insight, Better Than Before is a force for real change. It rearranged what I thought I knew about my habits, and I'm better for it."—Brené Brown, New York Times bestselling author of Daring Greatly and The Gifts of Imperfection
"With bold and original insights, Gretchen Rubin reveals the hidden truths about how to change our habits—from resisting junk food and hitting the gym to ending procrastination and saving money. Better Than Before is a gem, and the first habit you should form is reading a chapter every night."—Adam Grant, Wharton professor and New York Times bestselling author of Give and Take
"Gretchen Rubin is a writer after my own heart—seriously brilliant, very warm, and funny. I think she's amazing."—Anne Lamott, New York Times bestselling author of Bird by Bird and Operating Instructions
Whether good or bad, habits are the invisible architecture of our everyday lives. Habits shape our existence and our future; we repeat about 40 percent of our behaviors every day. But while changing habits may be simple, it's not easy. And most of us have no idea where to start.
Gretchen Rubin is one of the most influential and thought-provoking writers on happiness. Her pioneering work on the subject, which is at the heart of her bestsellers The Happiness Project and Happier at Home (more than two million copies sold worldwide), has sparked powerful conversations about the human search for happiness. Her work has been widely covered in the national media and she speaks annually at major conferences. Wildly popular on social media, Rubin writes a lively daily blog, is a Top "Influencer" on LinkedIn, and enjoys huge followings on both Twitter and Facebook.
Now, in a provocative yet practical new book, BETTER THAN BEFORE: Mastering the Habits of Our Everyday Lives (Crown; On Sale March 17, 2015), she turns her attention to the crucial question: How do we change our habits? With her signature mix of rigorous research,easy humor, and personal experimentation, Rubin identifies and illustrates the core principles of habit change. In doing so, she answers questions such as:
– Why do some habits take years to develop while others get picked up overnight?
– Why do some people resist habits while others adopt them eagerly?
– What can I do to help my child/spouse/colleagues make a change?
– How can I keep my healthy habits when I'm surrounded by temptation?
– Why can I make time for everyone else, but I can't take time for myself?
– Why do I find it tough to create a habit for something I love to do?
As we all know from tough experience, and as BETTER THAN BEFORE makes clear, no one-size-fits-all solution exists. Rubin reveals a key insight: To change our habits, we must first figure out ourselves. For instance, some people do better when they start small; others, when they start big. Some thrive with occasional breaks from good habits, while others do better when they never break the chain. When we choose the strategies that work best for us, going to the gym can be as automatic as putting on a seat belt. Filing expense reports or passing up that piece of chocolate cake won't drain us. With a foundation of good habits, we can build a life that reflects our values and goals.
In a book filled with big, stimulating ideas, Rubin identifies the twenty-one habit-changing strategies that allow you to put this self-knowledge into action—whether that means choosing the right time to begin a new habit, setting up a counter-intuitive system of reward, or using the power of "monitoring" to strengthen a good habit. Throughout, she investigates not only the well-established strategies for shaping habits, but also many that are often ignored or misunderstood. When we shape our habits to suit ourselves, we set ourselves up for success—even if we've failed before.
BETTER THAN BEFORE can also provide valuable guidance to anyone trying to help others change: a boss trying to help employees be more productive at work, a health-care provider trying to prod people to take their medication, a coach or trainer trying to help people achieve their goals, a parent trying to help a child be more organized.
Whether you'rea perpetual procrastinator, a yo-yo dieter, a packrat, a leader who would like to see employees work better and be healthier, or a parent who wants to instill good habits in a child, BETTER THAN BEFORE will help you harness the power of habits to create lasting change.
ABOUT THE AUTHOR: GRETCHEN RUBIN is the author of several books, including the blockbuster #1 New York Times bestseller The Happiness Project. Rubin started her career in law and was clerking for Supreme Court Justice Sandra Day O'Connor when she realized that she really wanted to be a writer. Raised in Kansas City, she lives in New York City with her husband and two daughters. Visit Gretchen Rubin at gretchenrubin.com.
Related Posts:
You Might Also Like