Press Releases
Better Than Before On-Sale in Paperback This December
From Gretchen Rubin, #1 bestselling author of The Happiness Project and Happier at Home, comes the groundbreaking book that will change your perspective on habits forever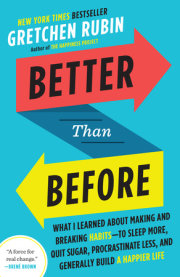 Gretchen Rubin
Imprint: Broadway
On sale: 12/15/2015
Price: $16.00
Pages: 320
ISBN: 9780385348638
Contact:
Sarah Breivogel
212-572-2722
sbreivogel@penguinrandomhouse.com
A NEW YORK TIMES BESTSELLER AND OPRAH SUPER SOUL 100 PICK!
Whether good or bad, habits are the invisible architecture of our everyday lives. Habits shape our existence and our future; we repeat about 40 percent of our behaviors every day. But while changing habits may be simple, it's not easy. And most of us have no idea where to start.
Gretchen Rubin is one of the most influential and thought-provoking writers on happiness. Her pioneering work on the subject, which is at the heart of her bestsellers, The Happiness Project and Happier at Home (more than two million copies sold worldwide), has sparked powerful conversations about the human search for happiness. Her work has been widely covered in the national media and she is consistently called upon to speak at major conferences. Rubin is also the host of a popular weekly podcast, Happier with Gretchen Rubin, writes a lively daily blog, is a top "Influencer" on LinkedIn, and enjoys huge followings on both Twitter and Facebook.
In her provocative yet practical New York Times bestseller, BETTER THAN BEFORE: What I Learned About Making and Breaking Habits—to Sleep More, Quit Sugar, Procrastinate Less, and Generally Build a Happier Life (Broadway Books; On Sale December 15, 2015), now in paperback, she turns her attention to the crucial question: How do we change our habits? With her signature mix of rigorous research, easy humor, and personal experimentation, Rubin identifies and illustrates the core principles of habit change. In doing so, she answers questions such as:
● Why do some habits take years to develop while others get picked up overnight?
● Why do some people resist habits while others adopt them eagerly?
● What can I do to help my child/spouse/colleagues make a change?
● How can I keep my healthy habits when I'm surrounded by temptation?
● Why can I make time for everyone else, but I can't take time for myself?
● Why do I find it tough to create a habit for something I love to do?
As we all know from tough experience, and as BETTER THAN BEFORE makes clear, no one size-fits-all solution exists. Rubin reveals a key insight: To change our habits, we must first figure out ourselves. For instance, some people do better when they start small; others, when they start big. Some thrive with occasional breaks from good habits, while others do better when they never break the chain. When we choose the strategies that work best for us, going to the gym can be as automatic as putting on a seat belt. Filing expense reports or passing up that piece of chocolate cake won't drain us. With a foundation of good habits, we can build a life that reflects our values and goals.
In a book filled with stimulating ideas and practical tips, Rubin identifies the twenty-one habit-changing strategies that allow you to put this self-knowledge into action—whether that means choosing the right time to begin a new habit, setting up a counterintuitive system of reward, or using the power of "monitoring" to strengthen a good habit. Throughout, she investigates not only the well-established strategies for shaping habits, but also many that are often ignored or misunderstood. When we shape our habits to suit ourselves, we set ourselves up for success—even if we've failed before.
BETTER THAN BEFORE can also provide valuable guidance to anyone trying to help others change: a boss looking to help employees be more productive at work, a health-care provider seeking to prod people to take their medication, a coach or trainer helping people achieve their goals, a teacher or parent trying to help a child be more organized.
Whether you're a perpetual procrastinator, a yo-yo dieter, a packrat, a leader who would like to see employees work better and be healthier, or a parent who wants to instill good habits in a child, BETTER THAN BEFORE will help you harness the power of habits to create lasting change.
ABOUT THE AUTHOR:
GRETCHEN RUBIN is the author of several books, including the blockbuster #1 New York Times bestseller The Happiness Project. Rubin started her career in law and was clerking for Supreme Court Justice Sandra Day O'Connor when she realized that she really wanted to be a writer. Raised in Kansas City, she lives in New York City with her husband and two daughters. Visit Gretchen Rubin at gretchenrubin.com.
Praise for Better Than Before:
"Rubin had learned there was a close correlation between habits and happiness, so she figured out how we form them, use them, and change them.  Once I came to understand habits and harnessing our own laziness — making a habit frees you from decision-making, which you can use to your advantage—my relationship to them changed permanently."
— The New Yorker
"The Happiness Project lays out life's essential goals…Her new book, Better Than Before, serves as a kind of detailed instruction manual on how to achieve them."
— New York Times Book Review
"Change can be good.  Particularly if it helps us live longer, healthier, indeed happier lives — the objective of Rubin's latest project."
— Chicago Tribune
"In Better Than Before, Gretchen Rubin picks up where [William] James left off, integrating a wealth of insight from psychology, sociology, and anthropology in an illuminating field guide to harnessing the transformative power of habit in modern life."
— Brain Pickings
"We are totally comfortable calling Gretchen Rubin's new book, Better than Before, life-changing."
— Better Homes & Gardens
"If anyone can help us stop procrastinating, start exercising or get organized, it's Gretchen Rubin.  The happiness guru takes a sledgehammer to old-fashioned notions about change."
— Parade

Related Posts: