Press Releases
Bestselling celebrity nutritionist shows you how to create meals that strengthen your body, enhance your health and light your metabolism on fire!
Haylie Pomroy teacheshow to turn your kitchen into a secret weapon for weight loss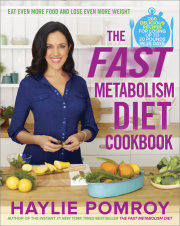 Haylie Pomroy
Imprint: Harmony Books
On sale: December 31, 2013
Price: $26.00
Pages: 240
ISBN: 9780770436230
Contact:
Tammy Blake
212-572-2542
tblake@randomhouse.com
Celebrity nutritionist, Haylie Pomroy, has helped thousands of clients lose weight – utilizing the healing power of real, whole food. Hailed as "the metabolism guru," Haylie reminds us that food is not the enemy, it's medicine needed to rev-up your sluggish, broken-down metabolism and turn your body into a fat-burning furnace. . Her metabolism-boosting, 28-day, 3 phase plan emphasizes the use of food to cook your way healthy to lose weight and feel great without asking you to starve or deprive yourself, count calories or cut out food groups.   The plan works precisely by using food to fire up the metabolism and get it burning at lightning speed. Her book The Fast Metabolism Diet debuted at #1 on the New York Times bestseller list last spring and stayed on the list for twenty-two weeks and counting. Now the legions of fans enjoying Haylie's Fast Metabolism Diet can continue to achieve successful weight loss by cooking and enjoying a wider variety of delicious and healthy home-cooked meals with her follow-up book, THE FAST METABOLISM DIET COOKBOOK (Harmony Books; On Sale December 31, 2013; $26, hardcover.)
Featuring more than 200 delicious recipes, THE FAST METABOLISM DIET COOKBOOK is a natural companion to her plan that thrives on variety, with recipes that offer diversity and excitement to meal planning for each of the three phases of her metabolism-boosting program. 
Complete with 28 days worth of sample menus and shopping lists, and a wide variety of recipes arranged by phase and by meal, including vegetarian, vegan and gluten-free options and dozens of time-saving and affordable food-preparation tips, THE FAST METABOLISM DIET COOKBOOK will appeal not just to dieters, but to anyone, including busy moms and on-the-go professionals, who want to expand their repertoire of healthy, hearty, and metabolism-friendly home-cooked food.
 No matter what foods you like to eat, Haylie's cookbook has something for you with recipes that are easy to follow and hard to resist. Some of the healthy, satisfying, and delicious recipes you will find in THE FAST METABOLISM DIET COOKBOOK include Tangerine Halibut Salad with Snow Peas and Mushrooms, Baked Cashew Chicken, Rosemary Pork Tenderloin with Mustard Greens, Quinoa Pear Smoothie, and Coconut Almond Pudding.  There are even vegetarian, vegan, and gluten-free and allergy friendly options.
 The Fast Metabolism Diet celebrates eating. Now with THE FAST METABOLISM DIET COOKBOOK you can continue to enjoy cooking your way to a thinner, healthier you!
#    #   #
 ABOUT THE AUTHOR: With clinics in Beverly Hills, Burbank, Irvine, and Fort Collins, #1 New York Times bestselling author and nutritionist HAYLIE POMROY is highly regarded in Hollywood and in the medical community for her ability to effect rapid, healthy weight loss. Her impressive client list includes celebrities such as Jennifer Lopez, LL Cool J., Robert Downey Jr. and NFL athletes. For more information please visit www.FastMetabolismDiet.com.
Related Posts: