Press Releases
Bestselling author Taylor Stevens' riveting, edge-of-your-seat thriller, The Doll, now in paperback
Following The Informationist and The Innocent, Stevens's third book in the Vanessa "Michael" Munroe series is intelligent, suspenseful, and impossible to put down.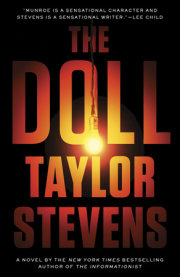 Taylor Stevens
Imprint: Broadway Books
On sale: March 4, 2014
Price: $14.00
Pages: 352
ISBN: 9780307888808
Contact:
Sarah Breivogel
212-572-2722
sbreivogel@randomhouse.com
"Munroe is a sensational character and Stevens is a sensational writer, and together they put The Doll high on my books-of-the-year list." —Lee Child, New York Times bestselling author of the Jack Reacher series 
"This New York Times bestselling author is back . . . with a truly spellbinding story."—Suspense Magazine
"Stevens's third series outing is another brisk, adrenaline-fueled adventure." —Library Journal 
 "Munroe remains as compelling as ever: violent yet protective of innocence, imprisoned by not only her past but also the choices she has made in response to it, and painfully conscious of her closeness to sanity's edge." —Publishers Weekly 
"Stevens' third Munroe book is another international action-adventure with a Bourne-like avenging angel at the reins."—Booklist
"This book is strongly influenced by the existential bare-bones approach of Lee Child's Reacher books, and its brilliant but damaged heroine, the estranged daughter of missionaries, owes much to The Girl with the Dragon Tattoo. But Stevens stamps the novel with her own bleak, punishing, bullet-flying outlook. . . . Out of that gloomy intensity comes edgy suspense."—Kirkus Reviews 
"Stevens excels at depicting pulse-pounding danger, and her prose and plotting are spectacular, especially given her cult background…. Only Dan Brown and Lee Child come close; not even the lauded Larsson could turn a phrase or twist a plotline like Stevens can." —Dallas Morning News
 
"If you are a fan of Jack Reacher, Lisbeth Salander, or Nina Zero, you need to check out Vanessa Michael Munroe!" —BookPage
"If you can stand the heat, Stevens' third thriller is a sizzler." —Minneapolis Star Tribune
"What a great gripping novel with a provocative heroine. Taylor Stevens has done it again. This is her third novel and it, too, should be an award winner." —I Love A Mystery
In 2011 Taylor Stevens burst onto the thriller scene with the publication of her debut novel, The Informationist.  Lauded by some of the best writers in the genre—including Vince Flynn, Michael Palmer, and Tess Gerritsen—widely covered in the national media, and sold in twenty countries, The Informationist became an instant New York Times bestseller, was one of the most talked about debuts of 2011, and was optioned for film by James Cameron (Titanic, Avatar). Reviewers and readers alike were drawn to Stevens's complex characters—particularly her butt-kicking protagonist Vanessa "Michael" Munroe, who drew comparisons to Stieg Larsson's Lisbeth Salander and Robert Ludlum's Jason Bourne—and the page-turning plot that transported us from the United States and Germany to France and Equatorial Guinea. Stevens's second novel, The Innocent, solidified her reputation. 
While readers quickly fell in love with Stevens's fearless heroine, they were also fascinated by the author's own utterly compelling history: her childhood and young-adult years spent moving around the world in the Children of God cult. During this time she was denied access to books or television and relied on her imagination and storytelling abilities as coping mechanisms. Stevens escaped the cult in her twenties, leaving everything behind to start over in the United States, and it was here that she taught herself to write.
Now available in paperback, THE DOLL (Broadway Books, March 4, 2014) is a riveting, edge-of-your-seat thriller that takes readers on a fast-paced cat-and-mouse journey through central Europe as "information specialist" Vanessa Munroe must outthink and outrun a disturbing villain who threatens not only her own life, but the life of the person she holds most dear.
Scarred from a life of violence, pursued by her own demons, and as proficient with languages as she is with knives, Munroe has a reputation for getting things done—often dangerous and not quite legal things. Along the way she's made enemies, and now those enemies are coming to collect.
THE DOLL opens as Munroe is tranquilized and kidnapped by an unseen opponent and thrust into an underground world where women and girls are bought and sold as merchandise and a shadowy figure known as the Doll Maker knows how to control her every move. While her trusted friends race to find her and unravel why she was taken, everything pivots on Munroe's simple choice: use her unique set of skills to deliver a high-profile young woman into a brutal nightmare, or condemn someone she cares for above all else to torture and certain death. Driven by the violence that has made her what she is, cut off from help, and with attempts to escape predicted and prevented, Munroe will hunt for openings, for solutions, and for a way to strike back at the man manipulating her from afar. But one thing is certain: she cannot save them all. 
Intelligent, suspenseful, and impossible to put down, THE DOLL is masterfully woven fiction that confirms Stevens's position in today's top tier of thriller writers, and will have fans eagerly anticipating her next Vanessa Michael Munroe novel, The Catch, to be published in July 2014.
ABOUT THE AUTHOR
Taylor Stevens is the New York Times bestselling author of The Informationist and The Innocent, both featuring Vanessa Michael Munroe. They received critical acclaim and have been published in twenty languages. Raised in communes across the globe and denied an education beyond the sixth grade, Stevens broke free of the Children of God and now lives in Texas.
Related Posts: