Press Releases
Bestselling author Bryan Peterson demystifies the trickiest stumbling blocks commonly faced by amateur photographers
Bryan Peterson's Exposure Solutions by Bryan Peterson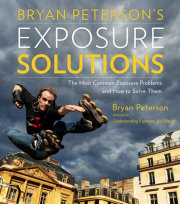 Bryan Peterson
Imprint: Amphoto Books
On sale: April 2, 2013
Price: $19.99
Pages: 144
ISBN: 9780770433055
Contact:
Kim Small
212-572-6067
ksmall@randomhouse.com
As every amateur shutterbug knows, certain exposure situations prove frustrating time and time again. In BRYAN PETERSON'S EXPOSURE SOLUTIONS (Amphoto Books, $19.99, On Sale April 2, 2013) bestselling author Bryan Peterson demystifies the trickiest, toughest stumbling blocks commonly faced by amateur shooters—including exposing for high-contrast scenes (such as snow), capturing the perfect backlit portrait, and freezing motion in low-light situations.
A companion to Bryan's classic bestseller, Understanding Exposure, BRYAN PETERSON'S EXPOSURE SOLUTIONS takes a deeper look at twenty-five scenarios frequently found in the field with quick, specific techniques and tips for approaching each shot. Photographing a full moon or fireworks, capturing a compelling sunset, exposing the perfect flower portrait—it's all made easy with Bryan's tips and tricks intended to dramatically transform mediocre snapshots into magnificent photography.
An enhanced ebook version of BRYAN PETERSON'S EXPOSURE SOLUTIONS is already available. In the ebook, seventeen video tips, seven audio tips, and forty before/after swipeable (slider) photo slideshows supplement the text creating a downloadable reference that is an essential piece of virtual "gear" for any amateur shooter.
Using the same winning combination of conversational writing style, gorgeous image examples, and anecdotal captions that has delighted hundreds of thousands of readers, BRYAN PETERSON'S EXPOSURE SOLUTIONS helps photographers tackle even the most frustrating situations so they can capture the most compelling images possible.
About the Author:
BRYAN PETERSON is a phenomenon in how-to photography, with more than 700,000 books sold, including Amphoto's #1 bestselling title of all time, Understanding Exposure, now in its third edition. He ranks as one of the bestselling authors in the entire category, from any publisher. A professional
photographer, founder of the online photography school The Perfect Picture School of Photography (ppsop.com), and an internationally known instructor, he is the author of Understanding Exposure, 3rd Edition; Learning to See Creatively; Understanding Digital Photography; Beyond Portraiture; Understanding Shutter Speed; Understanding Close-Up Photography; Bryan Peterson's Understanding Photography Field Guide; Bryan Peterson's Understanding Composition Field Guide; and Understanding Flash Photography.
Related Posts:
You Might Also Like