Press Releases
Beauty at Home is an unprecedented look into the life of one of the world's most admired tastemakers, Aerin Lauder
An inspiring guide to finding beauty in everyday life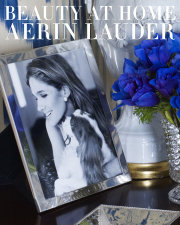 Aerin Lauder
Imprint: Potter Style
On sale: October 29, 2013
Price: $60.00
Pages: 240
ISBN: 9780770433611
Contact:
Kimberly Small
212-572-6067
ksmall@randomhouse.com
In her first ever book, style icon Aerin Lauder reveals what it means to live beautifully. Within the pages of BEAUTY AT HOME (Potter Style; $60, On Sale October 29, 2013), Aerin opens the doors to her Manhattan residence, Hamptons home, and Madison Avenue office, showing her unparalleled approach to style. From the little tokens she leaves on the plates of her dinner party guests to the way she displays her favorite artwork—her children's drawings—Aerin shares fond memories and lasting traditions.
Inspiring photographs by celebrated photographer Simon Upton capture Aerin's world in stunning detail, illustrating the refined aesthetic that suffuses all of the spaces she designs. Aerin describes the décor choices made to suit her family living in New York City, the way she conceived her company office to encourage creativity, and how she preserved the grace of her grandmother Estée's treasured Hamptons home—while making it even more inviting for her family and guests. With tips on entertaining that span from Saturday-morning breakfasts to summertime pool parties, the heart of BEAUTY AT HOME is Aerin's love of family and friends and her desire to create the kind of memories she cherishes from her own childhood.
Whether she's dressing a dinner table with zebra-patterned linens for a special occasion or creating an everyday sanctuary in her mostly white bedroom, Aerin proves that comfort and elegance make a wonderful match. BEAUTY AT HOME is an unprecedented look into the life of one of the world's most admired tastemakers, and an inspiring guide to finding beauty in everyday life.
ABOUT THE AUTHOR:
AERIN LAUDER is the founder and creative visionary behind AERIN (www.aerin.com), a luxury-lifestyle brand that creates cosmetics, fashion accessories, and home décor. Aerin began her career at Estée Lauder in 1992 and eventually became Creative Director and she continues to hold the position of Style and Image Director for the Estée Lauder Companies. She has also been featured as a style icon in every major fashion and shelter magazine from Vogue to Elle Décor to Women's Wear Daily. She lives in New York with her husband and two sons.
Related Posts: