Press Releases
BEAUTIFUL ANIMALS by Lawrence Osborne
A Novel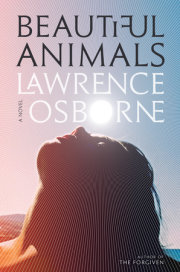 Lawrence Osborne
Imprint: Hogarth
On sale: July 18, 2017
Price: $25.00
Pages: 304
ISBN: 9780553447378
Contact:
Dyana Messina
212-572-2098
dmessina@penguinrandomhouse.com
Praise for Beautiful Animals
*A New York Times Book Review Editor's Choice* 
"Osborne is a startlingly good observer of privilege, noting the rites and rituals of the upper classes with unerring precision and an undercurrent of malice… The novel takes on the tone of an existential noir, evoking writers like Jean-Patrick Manchette and Georges Simenon. Yet even as the narrative accelerates, the novel retains its sense of languor and style… Osborne has been described as an heir to Graham Greene, and he shares with Greene an interest in what might be called the moral thriller."
—Katie Kitamura, New York Times Book Review
"Let's not mince words. This is a great book. Truly difficult to put down, the novel exerts a sickening pull. Its climax and resolution will not disappoint. The social perspective is sophisticated, smart and uncomfortable, and the story is cracking."
—Lionel Shriver, Washington Post 
"A seductively menacing new thriller by Lawrence Osborne, a Bangkok-based English writer who unites Graham Greene's fondness for foreign soil with Patricia Highsmith's fascination with the nastier coils of the human psyche… What makes Osborne's work so compelling is that it's ruthlessly unpredictable. This is one writer who knows that life, even on a rapturously lovely Greek island, is no day at the beach."
—NPR's "Fresh Air"
"A sun-drenched summer novel with a shadow of death hanging over it."
—NPR's "All Things Considered"
---
Since his re
turn to fiction in 2012 with the novel The Forgiven, followed by The Ballad of a Small Player (2014) and Hunters in the Dark (2016), Lawrence Osborne has dazzled readers and critics with his sophisticated tales of flawed individuals in exotic locales, where a quiet menace lurks just beneath the surface of each page. Newsweek has described Osborne's voice as "cynical, tender, extraordinarily acute to human nature" while the New York Times has compared Osborne to Evelyn Waugh, Paul Bowles, and early Ian McEwan. The UK's Sunday Times has proclaimed him "a modern Graham Greene" and The Guardian calls him "a master of the high style." Now Osborne shares with readers his latest work: a sensuous, rich, and deftly executed novel of manipulation and greed set on the Greek island of Hydra: BEAUTIFUL ANIMALS (Hogarth; July 18, 2017).
For as long as she can remember, Naomi has spent her summers on Hydra. Once the coveted seasonal escape for Europe's bohemian elite, the island is now a shadow of its former self, save a few residents who still call it home. Among them are Naomi's wealthy father and stepmother and, despite her severely strained relationship with the two, Naomi finds herself back at the hilltop villa after being fired from her position at a law firm. Adrift and alone, the warm summer heat and daily swims in the crystalline sea do not provide the respite she had been hoping for; but the arrival of an American family introduces her to Samantha, who is a few years younger than Naomi. The two girls find themselves drawn together by their cynical apathy and desperate desire to escape their families. A tenuous friendship develops between the two, and while out on a hike together, they stumble upon a man hiding out on one of Hydra's remote beaches. He is famished and dirty, with his clothing in tatters, and they quickly realize he is a refugee, one of many who have found themselves tossed by the Aegean onto Hydra's shores after desperate escapes from Syria. Naomi convinces Sam they must help the man, keeping him safe from the authorities and finding a way for him to escape the island and begin a new life. Despite her reservations, Sam agrees, and together they hide the man, who introduces himself as Faoud. The more they learn about him, however, the more he will drive the two girls apart. He only shares bits and pieces of his past—educated abroad, the son of a wealthy family—and while Naomi becomes more and more attracted to this elegant stranger, Sam becomes more and more skeptical he can be trusted. Naomi soon shares a plan with the two, one that will help Faoud as well as provide Naomi with a bit of revenge—but it all goes horribly wrong. Naomi and Sam will once again be thrust together, relying upon each other as they struggle to face the consequences of what they've done, while Faoud once again finds himself trying to escape with his life.
In BEAUTIFUL ANIMALS, readers will find themselves enthralled by Osborne's elegant and seductive style, which is coupled with a narrative of luxuriously languid, yet powerful intensity that refuses to let you go.
# # #
About the Author: LAWRENCE OSBORNE is the author of the critically acclaimed novels The Forgiven, The Ballad of a Small Player, and Hunters in the Dark, and of six books of nonfiction. His short story "Volcano" was selected for The Best American Short Stories 2012, and he has written for the New York Times Magazine, The New Yorker, Condé Nast Traveler, New York Times Book Review, Forbes, Harper's, and several other publications. He lives in Bangkok.
Related Posts: