Press Releases
"Be the Change" with the B.T.C. Old-Fashioned Grocery, a symbol of how good food can bring people together and empower a community to revitalize Main Street, USA.
Recipes and Stories from a Southern Revival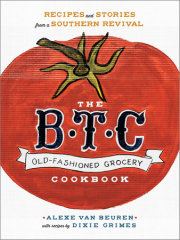 Alexe Van Beuren and Dixie Grimes
Imprint: Clarkson Potter
On sale: March 18, 2014
Price: $29.99
Pages: 240
ISBN: 9780385345002
Contact:
Erica Gelbard
212-572-6182
egelbard@randomhouse.com
In a small town twenty-five minutes outside of beautiful Oxford, Mississippi, there's been a revival of food and community. Bucolic small-town Water Valley wasn't the most logical place to start a grocery and cafe, but that's just what Alexe van Beuren did, in a historic building that her husband had saved from demolition. The B.T.C. Old-Fashioned Grocery opened in 2010 amidst a cloud of hope and dreams, full of glass-bottled milk, local produce, and Cora's fried pies. Trouble loomed when hope and dreams proved insufficient for the daily realities of running a small business when lo and behold, Dixie Grimes, a five-star chef, walked through the door in need of a job. Within a few months, Dixie's food had folks lining up at the window, and the two women discovered that after all, this small town in rural Mississippi was exactly where they needed to be.
The B.T.C. quickly cemented its place as the center of town life, serving hearty breakfasts and comforting lunchtime meals, as well as selling prepared foods like casseroles, salads, and spreads to take home. With vibrant storytelling, 120 recipes, and 60 evocative full-color photographs, The B.T.C. Old-Fashioned Grocery Cookbook (Clarkson Potter; March 18, 2014; $29.99; Hardcover) shares the inspiring story of how dreams can pay off in a small-town tale of food, friendship, and tradition.
Some recipes featured in The B.T.C. Old-Fashioned Grocery Cookbook include:
BREAKFAST: Skillet Biscuits, Sausage Gravy, Honey Goat Cheese Frittata with Prosciutto and Arugula
SOUPS FOR EVERY SEASON: Spinach Artichoke Bisque, Hotty Toddy Beer Chili, White Bean Chicken Chili, Mississippi Catfish Gumbo
SALADS: Dixie's Famous Chicken Salad, English Pea Salad, Vetra's Three-Bean Salad
SPREADS AND SANDWICH FIXINGS: Tex-Mex Pimento Cheese, Sriracha Coleslaw, Ham and Horseradish Spread, Kagan's Dill Pickles
CASSEROLES: Southern Yellow Squash Casserole, Hoop and Havarti Macaroni, Chicken Pot Pie with Parsnips and Roasted Leeks, Oyster Casserole
MAINS: Home-Brined Corned Beef Brisket, Honey Pecan Catfish, Crab Cakes with Dill Tartar Sauce, Coulter's Red Beans and Rice
SIDES: Creamed Cabbage with Sherry, Yellow Squash au Gratin, Corn Bread Dressing
SOUTHERN SWEET THANGS: Cora Ray's Fried Pies, Steel Magnolia Cake, Mrs. Jo's Banana Pudding, Peach Icebox Pie
The B.T.C. Old-Fashioned Grocery Cookbook shares some of the store's best recipes, giving home cooks everywhere a taste of the food that brought a community together, sparking friendships, reviving traditions, and strengthening an American Main Street.
ABOUT THE AUTHORS:
ALEXE VAN BEUREN is the owner of the B.T.C. Old-Fashioned Grocery. Raised in the Blue Ridge Mountains of Virginia, she now lives with her husband and their two children in Water Valley, Mississippi.
DIXIE GRIMES is an Oxford, Mississippi, native who has cooked for more than two decades in many fine restaurants. She has helmed the kitchen of the B.T.C. since 2011.
Related Posts:
You Might Also Like