Press Releases
BatDad: A Parody by Blake Wilson
The Hilarious Send-Up of Batman as a Suburban Dad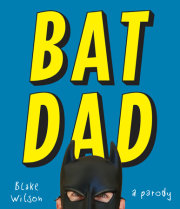 Blake Wilson
Imprint: Three Rivers Press
On sale: May 10, 2016
Price: $15.00
Pages: 64
ISBN: 9780451495501
Contact:
Maya Lane
212-782-9164
MALane@penguinrandomhouse.com
Like all superheroes, Blake Wilson has an origin story. Unlike any other superhero, his began when he bought a Batman mask at Target. Little did he know the short video he filmed of himself wearing it would be viewed by millions and launch the start of an alter ego: BatDad.
Soon, Blake was using Batman's gruff voice and nihilistic outlook to dispense parenting advice and humor on everything from potty training to puberty and wearing seat belts to nose picking in homemade videos that attracted a massive following and global media attention. Now, in BATDAD: A Parody (Three Rivers Press; on-sale May 10, 2016), suburbia's Bruce Wayne is bringing his funny take on parenting to the page through family photos and colorful comic book- style layouts, capturing life as an everyday superhero when your Batmobile is a minivan, the villains you face are your crazy kids, and your Batcave is covered in piles of laundry. 
Sure to become a household favorite, BATDAD: A Parody, provides fun for the whole family and is the perfect gift for all those everyday superheros out there – a.k.a. parents – hitting shelves just in time for Father's Day.
Related Posts: