Press Releases
Based on the hit TV show Sleepy Hollow, an unprecedented look inside the mind of Revolutionary War soldier and modern-day demon slayer Ichabod Crane
With exclusive hints about Season 2 and never-before-seen artwork!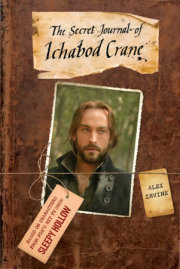 Alex Irvine
Imprint: Three Rivers Press
On sale: September 16, 2014
Price: $14.99
Pages: 208
ISBN: 9780553418989
Contact:
Allison Judd
212-782-9164
ajudd@penguinrandomhouse.com
What Critics Are Saying about Sleepy Hollow:
 "Fox's Sleepy Hollow gets the new television season off to an outlandish . . . and entertaining start." —New York Times
"TV's hottest new horror hit." —TV Guide
"A crazy good time." —TIME
"Fall TV's breakout success." —New York
"Sleepy Hollow is the best new show." —Robert Bianco, USA TODAY
Washington Irving's classic, The Legend of Sleepy Hollow, received an exciting modern makeover last year when Fox debuted the hit TV show Sleepy Hollow. The show, from executive producers Roberto Orci and Alex Kurtzman, quickly grabbed viewers' attention and built a rabid fan base of "Sleepyheads" on its way to becoming one of the most popular new shows of 2014. Along the way it received a Television Critics Association Awards nomination for Outstanding New Program and was named "Favorite New Show" in TV Guide magazine's "Battle of the Fans." In Sleepy Hollow, Ichabod Crane (Tom Mison) has been pulled two-and-a-half centuries through time to find that he and detective Abbie Mills (Nicole Beharie) are humanity's last hope in the war against evil. THE SECRET JOURNAL OF ICHABOD CRANE (Three Rivers Press; Trade Paperback Original; on sale September 16, 2014) is an unprecedented look at the battle also raging inside the fascinating mind of a character recently named one of Entertainment Weekly's 25 Best Characters on TV Right Now.
In entries that track the show's first season, Ichabod shares new ghoulishly revisionist stories from America's revolution, and offers more wry reflections on modern-day phenomena, such as the Internet, Election Day, and skinny jeans.
 He also reveals details from his courtship of Katrina, what he thought of Abbie when he met her, and how painfully he received the news of his lost son, Jeremy. Throughout, Ichabod's SECRET JOURNAL contains photos, drawings, and other artifacts he's collected, including hidden case files, secret Freemason puzzles, and selections from George Washington's mysterious Bible. It also hints at unanswered questions from season one and plants clues about season two. The book's release is timed to coincide with the highly anticipated second season premiere.
Filled with details about past battles and vanquished monsters, as well as glimpses at those he and Abbie have yet to face, this journal is not just the ultimate repository for fans, but the key to Sleepy Hollow's future—and the world's.
Related Posts: