Press Releases
Based on FOX's breakout show Sleepy Hollow, Sleepy Hollow: Children of the Revolution features the dynamic demon-fighting duo of Ichabod Crane and Abbie Mills
Award-winning author Keith R. A. DeCandido brilliantly weaves together true history with Fox's Sleepy Hollow lore and captures the charming voice of Ichabod in his absorbing new novel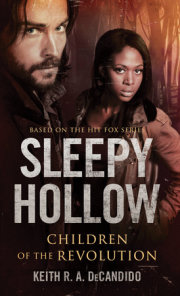 Keith R. A. DeCandido
Imprint: Broadway Books
On sale: September 30, 2014
Price: $7.99
Pages: 304
ISBN: 9780553419009
Contact:
Lauren Kuhn
212-782-8637
lkuhn@penguinrandomhouse.com
Praise for the Show 
"FOX's Sleepy Hollow gets the new television season off to an outlandish . . . and entertaining start." — New York Times
"TV's hottest new horror hit." — TV Guide
"A crazy good time." — Time
"Fall TV's breakout success." —New York
"Sleepy Hollow is the best new show." — Robert Bianco, USA Today
Since its premiere in the fall of 2013, Fox's hit show Sleepy Hollow, a modern-day twist on the Washington Irving classic, has amassed an impressive number of accolades. Fox's best fall drama debut since 24's debut in 2001, Sleepy Hollow was Fox's number one scripted series, averaging 11.4 million viewers per episode and receiving an NAACP Image Award nomination, a Television Critics Association Award nomination, and TV Guide's  "Battle of the Fans"  award for Favorite New Show.  Most recently, Entertainment Weekly named Ichabod Crane one of the "25 Best Characters on TV Right Now."
In Sleepy Hollow: Children of the Revolution (Broadway Books Paperback Original; September 30, 2014), Keith R.A. DeCandido offers a terrifically fun all-new Sleepy Hollow adventure featuring Ichabod and his much-loved companion Lieutenant Abbie Mills of the Sleepy Hollow Police Department, published with the full support of Fox in conjunction with the launch of the show's second season on September 22, 2014.
Arriving in twenty-first-century Sleepy Hollow dressed in his topcoat and knee-high boots and baffled by any manner of modern inventions, Ichabod has been resurrected two and a half centuries after his death to unravel a mystery that dates to the American Revolution. Crane teams up with Mills to continue an age-old battle between good and evil.
In Sleepy Hollow: Children of the Revolution, medals awarded in 1775 by the Second Continental Congress to the heroes of the American Revolution start to disappear one by one in a series of thefts accompanied by grisly murders. Soon it becomes clear that someone is gathering them for a purpose, as these medals of honor hold a much higher power. In this gripping and witty original Sleepy Hollow tale, Ichabod and Abbie must figure out why the medals are being stolen and what terrifying creature is being resurrected . . . before it's too late.
Inspired by a visit to the Metropolitan Museum of Art's American Wing where he viewed a portrait of one of New York City's Sons of Liberty, DeCandido brilliantly weaves together true history with Fox's Sleepy Hollow lore and captures the charming voice of Ichabod in this absorbing new novel.
ABOUT THE AUTHOR
KEITH R.A. DeCANDIDO is the award-winning, best-selling author of almost fifty novels, among them books in such universes as Star Trek, Supernatural, Doctor Who, and World of Warcraft. He also writes short fiction, nonfiction, and comic books.
Related Posts: