Press Releases
The Barrowfields by Phillip Lewis
A richly textured coming-of-age story—about fathers and sons, home and family—recalling classics by Thomas Wolfe and William Styron, by a powerful new voice in fiction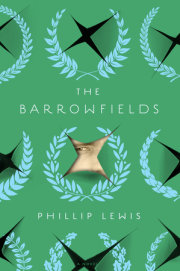 Phillip Lewis
Imprint: Hogarth
On sale: March 7, 2017
Price: $26.00
Pages: 368
ISBN: 9780451495648
Contact:
Rebecca Welbourn
212-782-9634
rwelbourn@penguinrandomhouse.com
Advance Praise for The Barrowfields
 "[C]harming, absorbing, and assured. . . . Lewis evokes his settings beautifully, and his prose is bracingly erudite. This debut has the ability to fully immerse its readers." —Publishers Weekly
"The Barrowfields is a stunning debut novel rich in character and place, steeped in literature and music, and fraught with family drama. . . . With clear echoes of Poe and Wolfe, The Barrowfields also gives a nod to Richard Russo by reflecting an appreciation for the eccentricities of regional characters." —Shelf Awareness
"Rich and complex. . . . Lewis is a master of creating a sense of place." —Kirkus Reviews
"A novel this good is a rare thing. Elegiac and timeless, The Barrowfields is an unforgettable evocation of a dark American saga. Reading it is like cracking open the tattered first edition of a classic you somehow missed but just pulled from your father's bookshelf." —David Gilbert, national bestselling author of & Sons
"The Barrowfields knows that the worst hauntings happen not in old houses but in troubled minds. The psychological landscape is craggy in this vivid update on Southern Gothic steeped in gorgeous vernacular and full of characters ready to walk off the page. Lewis goes down to the depths and back up in this powerfully hopeful book, and the reader is helpless in his hands." —Matthew Thomas, New York Times bestselling author of We Are Not Ourselves
"Beautifully written and deeply moving, The Barrowfields is a novel that centers on a man conflicted between his love of family and his devotion to literature. Phillip Lewis is a very talented writer, and his debut deserves a wide and appreciative readership." —Ron Rash, New York Times bestselling author of Serena and Above the Waterfall
"A beautiful, evocative novel with an amazing sense of place and an understated, dark sensibility. A brilliant debut." —Jenni Fagan, author of The Sunlight Pilgrims and The Panopticon
"Majestic and rich with the textures of life, Phillip Lewis's The Barrowfields is one of the great discoveries of the year. This is a debut so assured in its sense of place and history that it will leave you in awe of what Lewis has accomplished here: a sorrowful, beautiful ode to the bond of family, the ghosts that haunt us, and the stories that shape us." —Paul Yoon, author of Snow Hunters
---
Phillip Lewis's striking debut novel THE BARROWFIELDS (March 7, 2017, Hogarth) traces the fates and ambitions of a father and son across the decades, centered in a small Appalachian town that simultaneously defines them and drives them both away.
Just before Henry Aster's birth, his father reluctantly returns to the North Carolina town in which he was raised—Old Buckram, a place of grim poverty yet staggering natural beauty—with his outsized literary ambition and pregnant wife in tow. He installs his young family in a "monstrous gothic skeleton" of a house made of iron and glass and with an eerie history, separated from town by a barren, rocky stretch of land called the Barrowfields.
There, Henry and his little sister, Threnody, grow up in thrall to their fiercely brilliant, obsessive father, who spends his days as a lawyer in town and his nights writing in his library. But when tragedy tips his father toward a fearsome unraveling, Henry's youthful reverence is poisoned; by the time he leaves for college he's resolved never to return, despite promising to come back and take care of his mother and sister.
During his time away at college and then law school, Henry meets a young woman named Story. A fellow student whose own family past is shrouded in mystery, Story helps him grapple with his father's haunting legacy. Henry is gradually forced to face the tragic possibility that he's more like his father than he'd like to admit and that, try as he might, he can never truly escape his home, which calls him back over and over again.
Mythic in its sweep and mesmeric in its prose, THE BARROWFIELDS is a breathtaking novel that plumbs the darker side of devotion, the limits of forgiveness, and the question of whether identity is forever bound to where you come from.
ABOUT THE AUTHOR: Phillip Lewis, born and raised in the Appalachian Mountains, is a lawyer who currently lives in Charlotte, North Carolina, with his family.
Related Posts: