Press Releases
Bad Boy by Eric Fischl and Michael Stone is a no-holds-barred memoir of the high-flying 1980s art world by one of America's foremost painters
An uncensored behind-the-scenes tour of the high-octane, cocaine-infused New York '80s art world, as well as a poignant personal journey, told in vivid and compelling detail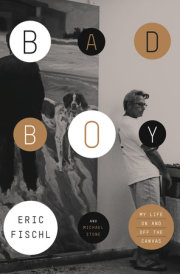 Eric Fischl and Michael Stone
Imprint: Crown Publishers
On sale: May 7, 2013
Price: $26.00
Pages: 368
ISBN: 9780770435578
Contact:
Penny Simon
865-675-1705
psimon@randomhouse.com
Four Views of Eric Fischl
On Growing Up
 "Eric was especially solicitous of our mother, in our daily struggles to keep her alive and sober. He was so sweet and caring. But he also developed this black humor. We both did. It was our way of surviving. . .  Sometimes when our mom locked herself in the bathroom and threatened to kill herself, we'd roll our eyes at each other. 'Okay, Mom, fine, I'll hand you the razor. Let's just get it over with.'" –Holly Fischl Giloth
 On Mastering His Craft
 "I first met Eric in my Painting 101 class at Arizona State University. . . . Noticing a tentative situation in Eric's abstract painting effort, I paused to demonstrate how placing a different color on his work would fix his problem. He would have none of it. 'You can't touch my painting,' he said, grabbing my eager arm. The whole class froze. Eric's reaction was far beyond my expectations of beginning-student behavior. He had already begun to take ownership of his work. . . . And so we ended in a stalemate: I wouldn't paint on his painting, and he wouldn't hit me." —Bill Swaim, art teacher and mentor
On Arm Wrestling
"[The artist] Markus Lüpertz showed up in town and he was running around in sweat suits, like he'd become this superathlete, a boxer or something. One afternoon we happened to be at the bar in the Odeon and he challenged Eric to an arm wrestling match and Eric said yes and beat him. I was very proud of Eric, the way he did it—very low-key—and I don't want to sound sentimental, but he made me proud to be an American." —Julian Schnabel
On Painting
"When you know a talented person long enough, there comes a time when you impose on him. It's just a law. Fifteen years ago it was my turn to ask Eric to do something for me. Would he, I asked, do a poster for a play I wrote about Albert Einstein and Pablo Picasso, and he agreed.  Starting a sketch while I watched, he loaded his brush with some flesh-toned watercolor and held it above a sheet of paper. He lowered the brush, held it there momentarily, lifted it – and there was the face of Einstein." —Steve Martin
. . . .
"Forthright . . . Fischl discusses art with an infectious enthusiasm. . . . the artist's fervor is palpable."
—Publishers Weekly
Eric Fischl is America's foremost narrative painter, and his paintings hang in the Metropolitan Museum of Art, the Whitney Museum of American Art, the Museum of Modern Art, and in collections throughout the world. BAD BOY: My Life On and Off the Canvas (on sale May 7), by Eric Fischl and Michael Stone, is both a poignant, personal journey, told in vivid and compelling detail, of Fischl's coming of age as an artist, and an uncensored, behind-the-scenes tour of the high-octane, cocaine-infused New York '80s art world. Sprinkled throughout the book are interstitial pieces by Fischl's family and friends, who share their personal experiences with, and impressions of, Fischl.
BAD BOY begins with Fischl's tumultuous childhood, which later became the basis for much of his art. To all outward appearances he had an idyllic childhood, growing up on the cusp of privilege. Yet the family's public image was a sham, hiding the fact that his mother was a ferocious alcoholic. Fischl grew up amid a dual reality: on the face of it, he lived in a lovely, affluent suburb full of postwar optimism; behind closed doors, his home was frightening and violent. As a result, he began to experience a profound, dizzying sense of disassociation, becoming acutely aware of the disconnect between appearance and reality. That sensibility would serve as a lifelong inspiration for his creative process.
Fischl's initial exposure to making art was serendipitous (he enrolled in an art class at a local community college because "nobody fails art"), but he was immediately hooked. "It didn't matter what I was making," writes Fischl. "I was filled with a kind of energy and focus I'd never known. For the first time in my life, I was able to concentrate and tolerate being alone." His passion was further kindled at CalArts in Los Angeles, where he was given a full scholarship. Days before classes started, he received a call saying his mother had been critically injured in a suicide attempt; she died within hours of his arrival home. Standing at her deathbed was a defining moment for Fischl, who writes, "It was at that moment that my future was set. I vowed that I would never let the unspeakable also be unshowable. I would paint what could not be said."
A continuing thread throughout BAD BOY is the ongoing discussion—what Fischl calls "the Great Debate"—as to what qualifies as art. In Fischl's time at CalArts, many considered painting to be dead; others thought it still had a place, but should be devoid of emotional content. "According to the dogma at the time, painting was not supposed to be about anything other than itself," Fischl writes. "What you saw was what you got. The problem was, I wanted to tell stories." It was an argument that would take on particular resonance for Fischl years later, when the work of conceptual artists such as Damien Hirst and Jeff Koons became the rage. Through it all, Fischl has been unshakeable in his belief that art should capture the authenticity of shared experiences, and that the artist should meet the viewer halfway.
Fischl and his then-girlfriend (now wife), the noted landscape painter April Gornik, returned to New York City in the late '70s; after the success of his Bad Boy show in 1982, he was quickly deemed a key player in the next generation of art, in which, as Fischl writes, "there were no agreed-upon standards for quality . . . artists in the eighties were out to blow your mind." To Fischl's chagrin, Julian Schnabel became the poster boy for that generation, which also included Keith Haring, David Salle, and other young, controversial artists with big personalities. They launched what some described as the New Expressionist movement and became the "it" artists of the decade, represented by famed art dealer Mary Boone. Still in his thirties, Fischl's canvases sold for hundreds of thousands of dollars, and his life and work turned up regularly in publications like Vanity Fair. With the money came celebrity, a glamorous, jet-setting social life, and drugs, which collectively began to consume him. BAD BOY opens with the night of Fischl's retrospective at the Whitney. Blasted on alcohol and cocaine, he ends up on the side of the road in a heated and potentially dangerous confrontation with a stranger. The next day, hazy on the details of what could arguably be the most important night of his life to date, Fischl was forced to acknowledge what he had become. He resolved never to drink or do drugs again, a vow he has kept to this day.
In the early '90s, the art market had become synonymous with the art world, dictating the fashions of what is good and what is hot, and promoting the idea that there was no difference between the two. That market was dominated by a new generation of artists with a completely new, commercial style. Fischl felt he'd lost his place in the art world's conversation, and fell into a funk. New friendships with people such as Mike Nichols, John McEnroe, and Steve Martin helped him to recover his equilibrium and take his work in accomplished and successful new directions. Interestingly, it was McEnroe who taught Fischl how to come to terms with becoming less relevant. "One of the great things Mac taught me was how to lose—or, more precisely, how losing is a natural part of every competitor's life," Fischl writes.
In BAD BOY, Fischl recounts the full arc of his life thus far, revealing with sometimes painful honesty his mistakes and triumphs as well as his relationships with his family, lovers, fellow artists, dealers, and buyers. Throughout, he returns to his philosophy of art and the context of specific works, describing their origin, execution, and reception, good or bad. "I've been searching for a sense of wholeness and belonging all my life," writes Fischl. "If there's been any theme uniting the stages of my life and my art, it's been that theme of redemption—the recovery of openness, intimacy, and trust. These days, my work is more about making connections. My art and life seem to be converging. The line between them, always blurry, is disappearing."
Related Posts:
You Might Also Like