Press Releases
Awkward Family Photos are back with a hilarious tribute to those special times of year when our families embarrass us the most: holidays.
There's no time more awkward than the holidays!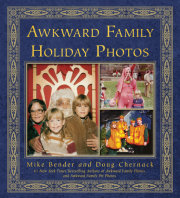 Mike Bender and Doug Chernack
Imprint: Three Rivers Press
On sale: October 29, 2013
Price: $15.00
Pages: 208
ISBN: 9780307888136
Contact:
Ellen Folan
212-782-8944
efolan@randomhouse.com
Since 2009 Mike Bender and Doug Chernack, the geniuses behind the Awkward Family Photos phenomenon, have been making us laugh with side-splitting pictorial reminders of just how bizarre our families can be. Mike and Doug's two previous books—the #1 bestselling Awkward Family Photos and Awkward Family Pet Photos—have spent a combined 39 weeks on the New York Times bestseller list with well over half a million copies in print, and the mega-popular website that started it all (AwkwardFamilyPhotos.com) continues to draw 3 million unique users and 15 million impressions a month. Now the authors are back with a hilarious tribute to those times of year when our families manage to embarrass us the most….holidays.
 AWKWARD FAMILY HOLIDAY PHOTOS  is a celebration of those momentous occasions when we gather with love ones to eat, drink, celebrate, and, of course, take uncomfortable family photographs. Whether you're sporting Mom's homemade Halloween costume, recreating a nativity scene for the annual Christmas card, or sitting on the lap of the creature you were told was the Easter Bunny, holidays make for those cringe-worthy memories that we will carry in our hearts for years to come.
 Featuring some of the most outrageous submissions from the site along with many never-before-seen photos and essays, AWKWARD FAMILY HOLIDAY PHOTOS captures all of the most popular and widely celebrated holidays (Valentine's Day, St. Patrick's Day, Easter, Mother's Day, Father's Day, July 4th, Halloween, Thanksgiving, Hanukah, Christmas,) and some of the more obscure but no less awkward like Earth Day, Oktoberfest and even Arbor Day.
 Whether it's a kid being stuffed into a pumpkin or Grandpa pounding a beer in the background of your pre-Church Easter Sunday photo op, AWKWARD FAMILY HOLIDAY PHOTOS is the place where all of these holidays gems have been memorialized, a reminder that while holidays may come and go, awkward family moments caught on camera—matching sweaters optional—will last forever.
 ###
 About the Authors:
Mike Bender is a screenwriter whose credits include Not Another Teen Movie and the MTV Movie Awards. Doug Chernack has created and produced television shows for E, Fox Sports, and The Golf Channel.
Related Posts: