Press Releases
Award-winning writer Ryan D'Agostino renders Dr. William Petit's harrowing but deeply uplifting story in The Rising
D'Agostino poignantly portrays a striking testament to the power of community and the resilience of the human spirit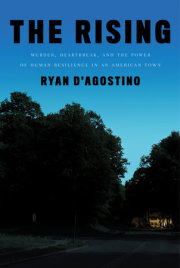 Ryan D'Agostino
Imprint: Crown Publishers
On sale: September 15, 2015
Price: $26.00
Pages: 288
ISBN: 9780804140164
Contact:
Lauren Kuhn
212-782-8637
lkuhn@penguinrandomhouse.com
Advance Praise for The Rising
"The Rising lingers long after you have read it. It raises fundamental issues about the human condition—our ability to move on in the face of unspeakable tragedy. Bill Petit lost his wife and two children in a crime beyond imagination. In the hands of Ryan D'Agostino what emerges is a pitch-perfect story of grace, eloquence, and renewal." —Buzz Bissinger, author of Friday Night Lights
"The Rising is a gut punch of a book, one I'm sure I'll never forget. Ryan D'Agostino unflinchingly takes us into the intimate world of Dr. Bill Petit, and in doing so brings us face-to-face with loss, resilience, perseverance, and finally our own humanity. A book so taut and moving I read it in one breath before exhaling." —Michael Paterniti, author of The Telling Room and Driving Mr. Albert
"One of the most heartrending and beautiful books I have ever read. The Rising is more than a story about one man's impossible triumph; it's a story about the power within all of us to find our ways no matter what." —Robert Kurson, New York Times bestselling author of Shadow Divers 
"A beautifully observed exploration of the redemptive power of love, The Rising will leave you in awe of both its hero's strength and its author's soaring talent. Shattering and exhilarating in equal measure, this is a book that will change the way you deal with life's inevitable hardships; you'll tear through it in a single sitting, but marvel at its empathy and power for years to come." —Brendan I. Koerner, author of The Skies Belong to Us
"D'Agostino's impressive narrative dexterity evokes horror from the crime's re-enactment yet also admiration for Petit's ability to later sustain a new relationship and embody the possibility of surviving 'the very worst of what's possible on earth, and to go on living.' True crime and human perseverance merge in this engrossing chronicle of a small-town atrocity." —Kirkus Reviews
"A remarkable account of hope, fellowship, and love in the face of tragedy." —Publishers Weekly
Many people remember hearing of the horrific 2007 Cheshire, Connecticut, home invasion—an assault that left Dr. William Petit Jr. brutally beaten and in which he lost his wife and two daughters. Such sadistic, senseless tragedy in a quintessential American town unfolded in the middle of what had been, until then, just another sleepy summer. The attack sent shock waves across the country for its gruesomeness, its randomness. The men who robbed Petit of his family were not crazy or on drugs; they were not psychiatric patients. They had committed small crimes but never anything violent until that terrifying July evening.
It's impossible to imagine surviving what Bill Petit suffered. But somehow, after confronting the unfathomable atrocities of which human beings are capable, Petit not only survived the ordeal; he slowly, heroically rebuilt a life. Perhaps more astoundingly, he remained convinced that people are basically good.
For the first time, Bill Petit and his friends and family have allowed a journalist access to their world. Ryan D'Agostino, who grew up in nearby West Hartford, Connecticut, has been immersed in Petit's remarkable story from the beginning, first writing about it as an editor for Esquire. The only reporter Petit has spoken to at length, D'Agostino draws on the extensive interviews born of that trust to bring to life Bill's poignant, harrowing, and yet ultimately inspiring journey in THE RISING: Murder, Heartbreak, and the Power of Human Resilience in an American Town (Crown; September 15, 2015).
Replete with a trove of never-before-seen Petit family photographs, THE RISING is a moving portrait of the commitment with which the people of Cheshire and beyond came to one man's aid, a striking testament to the power of community and the resilience of the human spirit. Now remarried with a young son, Petit continues to pay tribute to the wife and daughters he lost with the Petit Family Foundation, founded in their memories to foster the education of young people, improve the lives of those affected by chronic illnesses, and support efforts to protect and help those affected by violence. 
ABOUT THE AUTHOR: 
RYAN D'AGOSTINO is the editor in chief of Popular Mechanics magazine. Previously, he was an articles editor at Esquire, and he has written for The New Yorker, Ski, and other publications.
Related Posts:
You Might Also Like