Press Releases
From the authors of Shake and creators of the Mason Shaker comes Infuse, a cookbook filled with fresh and flavorful oil, spirit, and water infusions—and the recipes for using them in food and cocktails.
Infuse: Oil, Spirit, Water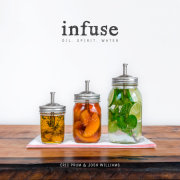 Eric Prum and Josh Williams
Imprint: Clarkson Potter
On sale: May 19
Price: $25.00
Pages: 176
ISBN: 9780804186766
Contact:
Anna Mintz
212-572-6186
amintz@penguinrandomhouse.com
Cocktail, culinary, and design innovators Eric Prum and Josh Williams's passion for infusing oils, spirits, and waters began one summer nearly a decade ago when the two first made peach-infused bourbon. They were awestruck. The seemingly simple process of adding fresh, local peaches to a Mason jar of Kentucky bourbon, and infusing the mixture for a handful of weeks had resulted in something so much greater than the sum of its parts. Infuse: Oil, Spirit, Water (Clarkson Potter/Publishers; on sale May 19, 2015; $25.00; 978-0-8041-8676-6) is both an instructional manual and an idea book for infusing oils, spirits, and waters with ingredients that are always fresh and flavorful.
 In Infuse, Eric and Josh share not only their favorite infusions, but also more than 50 recipes for how to use them in food and cocktails, such as a spicy chili oil drizzled atop a grilled pizza bianca or a hot toddy spiked with the peach bourbon that started it all years ago. Sample recipes featured in the book include:
OIL: Garlic Confit Oil; Spicy Calabrian Chili Oil; Snap Pea & Herb Salad with the Perfect Simple Vinaigrette
SPIRIT: Roasted Pineapple Mezcal; Peach Bourbon; Cranberry Rum Punch with Cranberry-infused Rum
WATER: Pineapple Mint Coconut Water; Jalapeño-Spiked Grapefruit Water; Pancakes with Blueberry-infused Maple Syrup                                  
#  #  #
ABOUT THE AUTHORS:
ERIC PRUM and JOSH WILLIAMS have been best friends since they met on their first day of college at the University of Virginia. Today, they are partners at W&P Design, the company they cofounded in Brooklyn in 2012. W&P Design applies innovative design to the food and beverage world, with the simple mission of helping you eat and drink better (while having fun doing it). Among their most popular products are the Mason Shaker, a Mason jar cocktail shaker, and the Mason Tap, a unique pour spout for a Mason jar. W&P Design's products and recipes have been featured in the New York Times, Food & Wine, and Bon Appétit, among others. Eric and Josh are the authors of Shake: A New Perspective on Cocktails. You can learn more at www.wandpdesign.com.
Related Posts:
You Might Also Like