Press Releases
Artist and designer Shabd Simon-Alexander and fabulous tie-dye
Tie-Dye: Dye It. Wear It. Share It.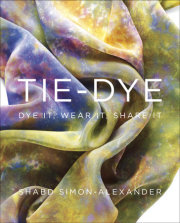 Shabd Simon-Alexander
Imprint: Potter Craft
On sale: June 4, 2013
Price: $22.99
Pages: 160
ISBN: 9780307965738
Contact:
Kim Small
212-572-6067
ksmall@randomhouse.com
Tie-dye has become one of high fashion's hottest trends. Sophisticated looks have dominated runway collections from Proenza Schouler, Rodarte, and Tory Burch, while tie-dye dresses, jeans, shoes, and bags have been spotted on celebrities such as Jennifer Lawrence, Rihanna, Victoria Beckham, and Gwyneth Paltrow. Whether you are into dip-dye or shibori, today's tie-dyed designs are increasingly intricate and exciting, and making them is still as much fun as ever.
Artist, designer, and teacher Shabd Simon-Alexander shows how fashion forward, fresh, and fabulous tie-dye can be on everything from leggings and dresses to totes and home décor in her new book, TIE-DYE: Dye It, Wear It, Share It (Potter Craft, $22.99; on sale June 4, 2013). The book offers step-by-step instructions for many different dye techniques and showcases 22 projects that take tie-dye from bright and bold to subtly sophisticated.
TIE-DYE is packed with information on how to set up your work area and what materials you need, and it provides a comprehensive how-to of the basic dyeing processes. Once you've mastered those skills, Shabd shares more advanced techniques and design concepts to help guide your creative choices. Each project comes with a key, telling you the level of difficulty, the tie method, the dye method, and how long it will take to complete the project. Projects range from beginner friendly to advanced—the Lightning Tee (page 72), the Crystalline Scarf (page 84), and the Indigo Button-Down (page 117) are especially quick and easy.
This book has something for everyone—for the fashion-forward; for teens, children, and parents; for design students and textile artists; for quilters and sewers who want to hand-dye fabrics; and for crafters of all kinds looking for easy ways to revitalize their wardrobe. (Materials are commonly available in craft, toy, and art supply stores at affordable prices.) Experience all the innovative new possibilities with TIE-DYE!
#    #    #
About the Author:
Shabd Simon-Alexander is a recognized innovator in tie-dye designs. Her clothing line, shabd, is carried in high-end boutiques and art museums around the world. She has been featured in many magazines, newspapers, and blogs, including the New York Times, Nylon, W, Lucky, Teen Vogue, Bust, Refinery29, Daily Candy, Time Out, New York magazine, Modern Painters, Dossier,  and BlackBook. She has also been featured in books such as Brooklyn Makers and Marina Abramovic: The Artist Is Present. She teaches hand-dyeing classes and was the first person to show Martha Stewart how to tie-dye. She lives in New York City and can be found online at www.shabdismyname.com.