Press Releases
Arthur C. Clarke Award-winning author Chris Beckett's brilliant US debut, DARK EDEN
One of the UK's most acclaimed science fiction novels of 2012 features a powerfully unique voice, a marvelously imagined alien planet, and a young hero who fights against his backward society's ignorance.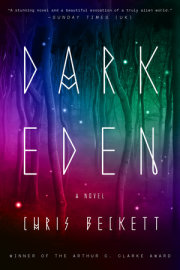 Chris Beckett
Imprint: Broadway Books
On sale: April 1, 2014
Price: $15.00
Pages: 448
ISBN: 9780804138680
Contact:
Lauren Kuhn
212-782-8637
lkuhn@randomhouse.com
"Beckett has done a brilliantly imaginative job of world-building in both global concepts and quotidian details . . . None of these specifics gets in the way of a suspenseful, page-turning plot, however, and the book is a superb entertainment, a happy combination of speculative and literary fiction. And it is not to be missed." —Booklist (starred review)
UK Praise for Dark Eden 
Sunday Times Science Fiction Novel of the Year
Winner of the Arthur C. Clarke Award
Finalist for the British Science Fiction Association Awards 
"A stunning novel and a beautiful evocation of a truly alien world."—Sunday Times 
"Human plight and alien planet are both superbly evoked . . . a captivating and haunting book."—Daily Mail 
"A superior piece of theologically nuanced science fiction. The linguistic flourishes nod at both Russell Hoban's classic Riddley Walker and Will Self's The Book of Dave, but Beckett does not merely imitate other post-apocalyptic prose." —The Guardian 
"A classic theme, beautifully told."—Sunday Telegraph 
"Pure astonishment and pleasure, a storytelling ride full of brio and wonder." —Locus
Published in the UK to tremendous acclaim, and winner of the Arthur C. Clarke Award, Chris Beckett's Dark Eden: A Novel (Broadway Books; April 1, 2014) is an ambitious and touching exploration of myth and tradition, and an incredible illustration of the literary potential of science fiction.   
Dark Eden takes place on the distant sunless planet called Eden more than a century after its original inhabitants, Tommy and Angela, were marooned there and where 532 of their descendents—known as Family—still live primitively. Clustered around Circle Clearing, where their ancestors first landed, the members of Family survive on a generations-old promise that the people of Earth will one day return to take them home to a place where light shines from the sky and people can fly through the air. 
The inhabitants of Eden have respected the laws of Angela and Tommy unquestioningly, passing their stories from generation to generation, and yet Earth has not found them, Family has gotten larger, and resources have grown scarce. With no guarantee that rescue will arrive, their ways must change, but only the young John Redlantern is brave enough to abandon Family's most sacred traditions to prepare for an indefinite future on Eden. Yet John's journey across the snowy blackness of their world in search of wider lands comes at a terrible cost—for even as he discovers the truth about their existence, he brings bloodshed and division to this once-innocent community. 
Set against the backdrop of a sinisterly beautiful alien world, where the soft glow of lantern trees are the sole sources of light and forests hum as trees continuously pump their sap through hot rocks far below, Dark Eden is a truly extraordinary novel—at once a heart-rending coming-of-age tale, an engrossing anthropological and sociological thought experiment, and a brilliant feat of science fiction world-building. 
* * * * *
ABOUT THE AUTHOR: CHRIS BECKETT is a university lecturer living in Cambridge. His short stories have appeared in such publications as Interzone and Asimov's and in numerous "year's best" anthologies in the United States. In addition to the Arthur C. Clarke award for Dark Eden, Chris Beckett won the Edge Hill Prize, the UK's premier award for short story collections, for his collection the Turing Test.
Related Posts: