Press Releases
ARTEMIS by Andy Weir
From the #1 New York Times bestselling author of The Martian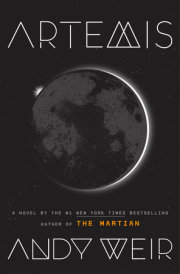 Andy Weir
Imprint: Crown
On sale: November 14, 2017
Price: $27.00
Pages: 320
ISBN: 9780553448122
Contact:
Sarah Breivogel
212-572-2722
sbreivogel@penguinrandomhouse.com
From the #1 New York Times bestselling author of The Martian comes a new novel: ARTEMIS, A NEAR-FUTURE THRILLER SET ON THE MOON.
*Movie Rights Acquired by 20th Century Fox and New Regency,
with Simon Kinberg and Aditya Sood to Produce for Genre Films
and with Phil Lord and Christopher Miller set to Direct*
**Sold in 24 territories around the world**
Praise for ARTEMIS
"An action-packed techno-thriller of the first order…the perfect vehicle for humans who want to escape, if only for a time, the severe gravity of planet earth. The pages fly by." —USA Today 
"Revitalizes the Lunar-colony scenario, with the author's characteristic blend of engineering know-how and survival suspense…Jazz is a great heroine, tough with a soft core, crooked with inner honesty." —Wall Street Journal
"Weir plausibly depicts near-future colonization technology, and showcases the opportunists and laborers who eke out a living in this expensive, precarious habitat." —New York Times Book Review
"Makes cutting-edge science sexy and relevant…Weir has created a realistic and fascinating future society, and every detail feels authentic and scientifically sound."—Associated Press
"Smart and sharp…Weir has done it again [with] a sci-fi crowd pleaser made for the big screen."—Salon.com
"Out-of-this-world storytelling." —Houston Chronicle
"Andy Weir does for the Moon in Artemis what he did for Mars in The Martian–that is, he incorporates a solid mix of known technology and science with a bit of tech-fiction to further enhance a great story. In this case…it's a great caper." —GeekDad.com
"A fast, engaging and at times funny lunar caper that will…pull you in from the first page with its unique setting, memorable characters and detailed scientific scrutiny…" —CNET.com
"An entertaining read for space geeks, and a strong follow-up to The Martian." —Space.com
"A hit like The Martian is hard to follow-up, but it seems Andy Weir has no trouble keeping the good ideas coming, producing another yet novel with realistic hard science and entertaining adventure…a speculative genre that blends thrilling adventure and fun with realistic and believable science… The action crescendos and doesn't stop until we reach a boiling point in the climax, giving rise to some of the most intense chapters I've ever read, with the added bonus of making you want to fistpump the air yelling, 'GO SCIENCE!'" —Bibliosanctum
"[A] riveting space adventure…grounded in science, but…wrapped around the tale of a crime and set at the first and only city on the moon." —CollectSpace.com
"Set in Artemis, a city on the moon, this thriller by the author of The Martian features a young woman caught in a high-stakes criminal plot. Plus fun science-based details of moon-living logistics." —AARP
"A fun page-turner which should appeal to fans of sci-fi, not to mention anyone who digs a good caper." —AM New York
"A superior near-future thriller…the sophisticated world-building incorporates politics and economics, as well as scientifically plausible ways for a small city to function on the lunar surface. The independent, wise-cracking lead could easily sustain a series. Weir leavens the hard SF with a healthy dose of humor." —Publishers Weekly (starred review)
"This exciting, whip-smart, funny thrill-ride boasts a wonderful cast of characters, a wide cultural milieu, and the appeal of a striking young woman as the main character. It's one of the best science fiction novels of the year." —Booklist (starred review)
"Narrated by a kick-ass leading lady, this thriller has it all – a smart plot, laugh-out-loud funny moments, and really cool science. A four-star read." —Library Journal (starred review)
"Weir has done it again: he's created a diverse and fantastic new world, filled with eclectic and memorable characters, and woven them into a dazzling work of contemporary science fiction – one that's chock-full of actual science. Artemis is everything you could hope for in a follow-up to his smash debut The Martian: another smart, fun, fast-paced adventure that you won't be able to put down, featuring a heroine who's equal parts Ellen Ripley, Arya Stark, and Jyn Erso. I can't recommend it enough!" —Ernest Cline, New York Times bestselling author of Ready Player One
"All the things I loved about The Martian are here in spades—the hard science Weir somehow makes accessible and riveting, the masterful, never-see-it-coming plotting, but most of all the voice of his new protagonist, Jazz Bashara—an irreverent, witty, vulnerable heroine, who, just like Mark Watney, is exactly the kind of character you'll want to spend a book with.
With Artemis, Andy Weir has done the impossible—he's topped The Martian with a sci-fi-noir-thriller set in a city on the moon. What more do you want from life? Go read it!" —Blake Crouch, New York Times bestselling author of Dark Matter
Andy Weir's brilliant debut novel The Martian, a gripping story of survival against all odds, is a genuine publishing phenomenon. Hailed by critics and fans alike as a new science-fiction classic, it's spent a year and a half on the New York Times bestseller list (including twenty weeks at number one), has been published in forty languages worldwide, and has sold more than four million copies in North America alone—not to mention being adapted into the hit movie of the same name, starring Matt Damon and directed by Ridley Scott.  In his much anticipated new novel ARTEMIS: A Novel (Crown, on sale November 14, 2017), Weir has crafted a near-future crime caper that introduces a protagonist every bit as memorable as The Martian's Mark Watney: Jasmine Bashara, aka Jazz. Jazz is just another too-smart, directionless twentysomething, chafing at the constraints of her small town and dreaming of a better life. Except the small town happens to be named Artemis—and it's the first and only city on the moon.
Life on Artemis is tough if you're not a rich tourist or an eccentric billionaire, and Jazz is decidedly not a member of either category. She's got debts to pay, her job as a porter barely covers the rent, and her budding career as a smuggler isn't exactly setting her up as a kingpin, much to her disappointment. For her—and the two thousand working-class inhabitants of Artemis's five domes—life means fighting to get into a guild for a shot at a decent living, gulping down another meal of the dubiously flavored algae known as gunk, then washing the latest frustrations away on a tide of reconstituted beer (tastes just like the real thing, except not really!) before heading home to another night in a coffin-size sleeping capsule.
So when the chance at a life-changing score drops in her lap, Jazz can't say no, even though she's sure there's more to the setup than meets the eye. And, indeed, pulling off the perfect crime is just the first of Jazz's problems as she finds herself in the middle of a conspiracy for control of Artemis itself.
Brimming over with Weir's trademark charm, filled with smart, detailed world-building based on real science, and propelled by a deliciously twisty heist plot, ARTEMIS is an irresistible new science-fiction thrill ride that's sure to take its place alongside The Martian as a new classic in the genre.
# # # # #

ABOUT THE AUTHOR
Andy Weir built a two-decade career as a software engineer until the success of his first published novel, The Martian, allowed him to live out his dream of writing full-time. He is a lifelong space nerd and a devoted hobbyist of such subjects as relativistic physics, orbital mechanics, and the history of manned spaceflight. He also mixes a mean cocktail. He lives in California. His new novel, Artemis, will be published by Crown November 14, 2017.
ARTEMIS: A Novel
by Andy Weir
Crown Publishers • On Sale: November 14, 2017 • Price: $27.00 hardcover • 320 pages
ISBN 978-0-553-44812-2
Also available as an ebook and as a large print edition
Visit crownpublishing.com or andyweirauthor.com
Or follow him on Facebook or Twitter @andyweirauthor
**National Tour**
For event details, please visit: prh.com/artemisevents
Related Posts:
You Might Also Like