Press Releases
ARMADA by Ernest Cline
The new novel by the bestselling author of Ready Player One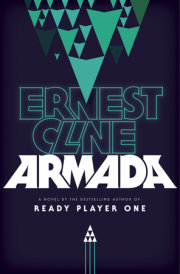 Ernest Cline
Imprint: Crown Publishers
On sale: July 14, 2015
Price: $26.00
Pages: 368
ISBN: 9780804137256
Contact:
Sarah Breivogel
212-572-2722
sbreivogel@penguinrandomhouse.com
When the game ends, the battle begins
In 2011 screenwriter Ernest Cline (Fanboys) penned his wildly original, genre-busting debut, Ready Player One. Packed with irresistible '80s nostalgia, this cinematic novel was immediately embraced by readers, bloggers, geeks, gamers, booksellers, and John Hughes fans everywhere. From the New York Times and Entertainment Weekly to Boing Boing and Wired, the novel received rave reviews across the board, has sold over a half million copies in the U.S., and has been published in 40 countries—and is now set to be made into a film by legendary director Steven Spielberg. Billed by USA Today as "Willy Wonka meets the Matrix," the novel features an expansive, meticulously imagined world that's simultaneously futuristic and charmingly retro—a universe where light-speed traveling DeLoreans battle it out with X-Wings and entire planets are inspired by classic video arcades—combined with a plot that incorporates a healthy dose of pop-culture trivia.
Since 2011 Cline's fans have been on the edge of their seats anxiously awaiting his next endeavor. With his new novel, ARMADA (Crown, on sale July 14, 2015), Cline has crafted another inventive, heartwarming, and completely nerdtastic adventure. As it opens, high-school student Zack Lightman glances out his classroom window and spots a UFO. At first he thinks he's going crazy. A minute later he's sure of it, because the ship he's staring at is straight out of the videogame he plays every night, a hugely popular online flight simulator called Armada,—in which gamers just happen to be protecting Earth from alien invaders.  
Zack is sure he's lost his mind. But what he's seeing is all too real, and his skills—as well as those of millions of gamers across the world—are going to be needed to save Earth from what's about to befall it. Yet even as he and his new comrades scramble to prepare for the alien onslaught, Zack can't help thinking of all the science-fiction books, TV shows, and movies he grew up reading and watching, and wonder: Doesn't something about this scenario seem a little too… familiar? 
ARMADA, which is already being adapted into a film by Universal Studios, is at once an adrenaline-fueled, surprising thriller, a classic coming-of-age adventure, and an alien-invasion tale like nothing you've ever read before—one whose every page is infused with author Ernest Cline's trademark pop-culture savvy.
ABOUT THE AUTHOR: Ernest Cline is a novelist, screenwriter, father, and full-time geek. His first novel, Ready Player One, was a New York Times and USA Today bestseller and appeared on numerous "best of the year" lists. Ernie lives in Austin, Texas, with his family, a time-traveling DeLorean, and a large collection of classic videogames. For more information, visit www.ernestcline.com or find him on Twitter @erniecline or on Facebook at Ernest Cline.
Related Posts: